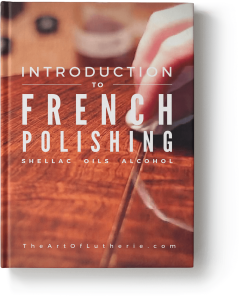 Welcome to the second installment of the Introduction To French Polishing Series: Alcohol and Oils.
Just in case you missed Introduction to French polishing Part 1, we covered a little history about French polishing and cleared up some common misconceptions about what French polishing is and a lot more too.
Then we went on to look at the amazing material at the heart of this whole process, shellac resin. We looked at what it is, how it's made, and each different type you can use for French polishing your guitars.
If you missed out on part 1 you can check it out HERE. If you are a Luthier's edge member or if you're enrolled in The Art Of French Polishing video course, you can log in and check out the full tutorial: Introduction To French Polishing which contains this entire 3 part series plus 3 bonus demonstration videos.
Types Alcohol For French Polishing
Now that we have talked a little bit about the shellac resin and what it is, we can talk about the other main component of our finish which is alcohol. There are several different types of alcohol that can be used for french polishing with shellac, and each type will produce different results.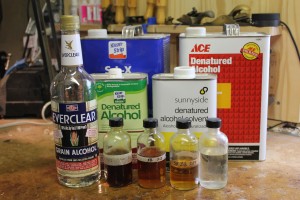 Many people choose the type of alcohol they use for french polishing based on which one is the cheapest, but what they don't realize is that to do so might be compromising the look of their finish, let me explain why.
Each type of alcohol and even different brands of the same type of alcohol will have different effects on the shellac resin. The most striking difference is in color. If you start with a nice Kusmi button lac and dissolve it in denatured alcohol you will get a very yellow and week looking color that lacks fire. If you mix the same Kusmi button shellac with some pure ethanol like Everclear, the color will be very warm, full of fire, and wonderful red hues. I also find that using pure ethanol will give you much better chances of getting a dichroic effect in your finish which is what I'm after. The dichroism present in some shellacs gives the finish a fire similar to a natural diamond or gemstone, and makes any synthetic finish look dead and unnatural when compared side by side. Another term commonly used to describe this unique and beautiful characteristic is Chatoyancy.
Oils Used For French Polishing
The final important component in the formula for a beautiful and durable French Polished shellac finish is oil. There are many different oils used by French polishers, but the most commonly used oil based on my experience is probably olive oil. The second would be mineral oil, followed by walnut oil.
Different oils have different properties they bring to the finish during application as well as the long term properties of the finish itself. There are two basic types of oils: drying oils and non-drying oils.
Non-Drying Oils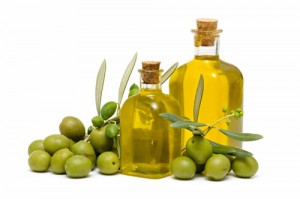 A non-drying oil will not polymerize and will remain somewhat fluid and continue to migrate indefinitely. Olive oil and mineral oil are in this category of non-drying oils.
The non-drying oils are great for use in facilitating the application of the shellac with a pad via the French Polishing technique. A small amount of these can be added directly to the pad in order to increase the lubrication between the pad and the finished surface, enabling the finisher to apply more finish with each session and with a smoother surface texture.
Drying Oils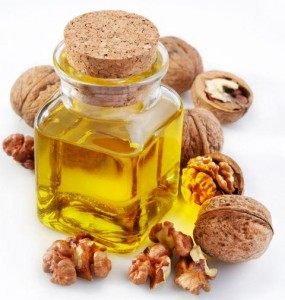 The drying oils such as Walnut oil will fully polymerize and become a permanent part of the finish itself. The function of this type of oil is two fold:
Flexibility – To add flexibility to the finish and act as a plasticizer in the formula of our shellac and alcohol mixture. This will help the finish to move with the wood as well and prevent checking.
Gloss – Increase the gloss of the finish and enable the finisher to get a rich and lustrous sheen that will not dull and flatten like a shellac finish without a drying oil.
Solvent Resistance – An added bonus of using walnut oil as a plasticizer is that once it fully polymerizes, there will be an increase in solvent resistance due to the fact that the polymerized walnut oil component of the finish has no solvent.
Different finishers have personal preferences in using different types of oils, so you'll need to experiment to find out which oils work the best for your own technique and applications. I use both walnut and olive oil in different ways throughout the French Polishing process for specific purposes aimed at producing the highest quality, most beautiful, and best sounding finish possible.
Part 3: Basic Techniques & 3 FREE demo videos
In the next installment of this series we will be looking at the Pad used for application and you'll even get some special videos to help you get a better understanding of the basic technique.
---
Introduction To French Polishing: Shellac, Oils, & Alcohol – eBook
When learning to French Polish a guitar, having a solid understanding of each component of the finish and what the function of each ingredient is, will set you up for success as you develop your own systems for obtaining a beautiful hand rubbed French polish finish.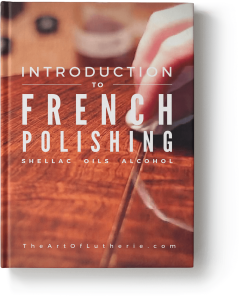 Instant Digital Access
Understanding Shellac
Types & Colors Of Shellac
Types Of Alcohol for French Polishing
Types & Uses For Different Oils
Drying Oils
Non-Drying Oils
Video 1 – Making the Pad
Video 2 – Pore Filling Basics
Video 3 – Basic Technique
17 Pages