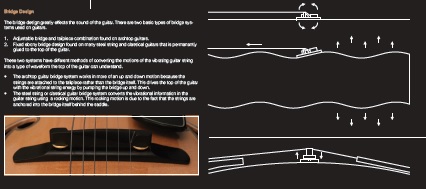 Introducing a new resource for luthiers, designed to help you gain a deeper understanding of how the guitar functions acoustically. My new Luthier Wall Chart, created in partnership with Mel Bay Music, is a wonderful addition to any guitar workshop for easy reference when building your guitars. There are many different manuals to show you step by step how to make a guitar, but if you are anything like me, you probably want to understand the guitar on a deeper level. Gaining a deeper understanding of how the components of the guitar function individually and together as a system, can equip you to make educated decisions regarding your designs and your work.
Advanced Guitar Making Manual On One Page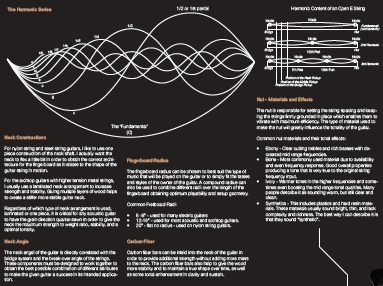 My aim in creating this resource for luthiers, was to distill the most important and useful information onto a single sheet of paper. This is the kind of information that has to be learned and not just memorized if you want it to really help guide you in the improvement of your instruments.
Building guitars is an art, like playing guitar. Memorizing scales alone will not make you a great player, but with repetition and experience you can reach the point where the scales become integrated within you, when you make the leap from memorization to true learning and experiential understanding. Then you are free to create your unique art at a much higher level of refinement and quality.
Having this information close at hand to reference anytime you need it, will help you make that leap from repeating the steps in a how to book, to assimilating these critical concepts and pursuing mastery in your craft.
Beautiful & Functional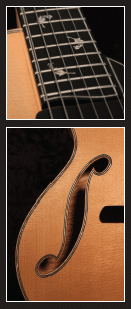 The Luthier Wall chart not only contains important foundational concepts regarding the functionality and optimization of the guitar, but it looks beautiful too. The guitar featured on this poster is my Natura Elite II Archtop.
For the aspiring luthier, much can be learned simply from closely studying the photos of the guitar. This instrument features the delicate curves, subtle arching, and other refinements that my Natura line of archtop guitars are known for. This unique instrument was crafted from Exhibition Grade quilted Maple and aged master grade Spruce. One of its most striking features is the 47 + feet of delicate gold mother of pearl, painstakingly inlayed into the purfling of this instrument, adding its opulent sparkle at every turn.
The Natura Elite II was custom built for one of my clients and every detail was fit perfectly to his needs and specifications both in form and sound using many of the same concepts discussed in this great new resource for luthiers.
The Topics Covered Include:
Scale Length
Bridge Dynamics
Bracing
Neck Angle
Neck Construction
Carbon Fiber
Wood Selection
Fingerboard Radius
Back-Strapping
Nut / Saddle Materials
Binding
Headstock Angle
Break-over Angle
Tuners
Adhesives
Frets
Inlay
Set/Neck Geometry
Bridge Design
Linings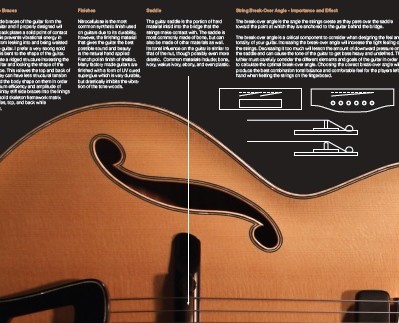 Collin Bay of Mel Bay Music Talks About The Tom Bills Luthier Wall Chart
Purchase the Luthier Wall Chart Today!
$8.99
If you already have this wall chart in your workshop, studio, or practice room, I would love to hear from you. Tell me about it in the comments below and let me know how it has helped you and your guitar playing or building.