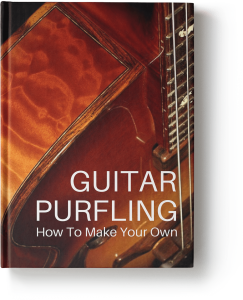 Now that we've talked about many different options and important details regarding our wood guitar purfling in How To Make Guitar Purfling: Part 1, we're ready to get to work and start making our own. In the tutorial I'll be discussing these steps in detail and showing you many very important and even critical tricks and tips I use to make my wood purflings easier to make, to incorporate into my building flow, and of course ensure that they work well structurally(functionally) and look great too.
Make sure you pay close attention to the details as some aspects such as adhesives and special materials are necessary or the veneer stack will not work properly and could be damaged in the process.
* If you're a Luthier'sEDGE member be sure to log in or download the eBook for full access to the special members only content. *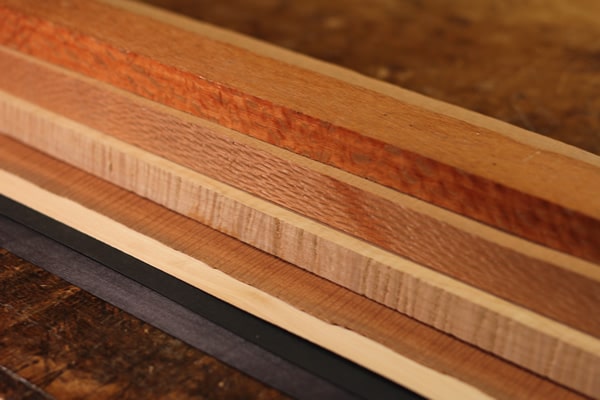 When making your own wood guitar purfling you allow yourself an unlimited amount of control over every aspect of the design. You can obviously use different woods to get different colors or shimmer effects, but you can even change the grain orientation of the visible purfling edge to get just the perfect effect you want.  Notice how different the grain looks in the top two pieces in the stack of wood pictured above. They are both lacewood cut from the same log, but the top one is quarter cut on the edge facing us, and the lower piece is flats-sawn on the edge facing us.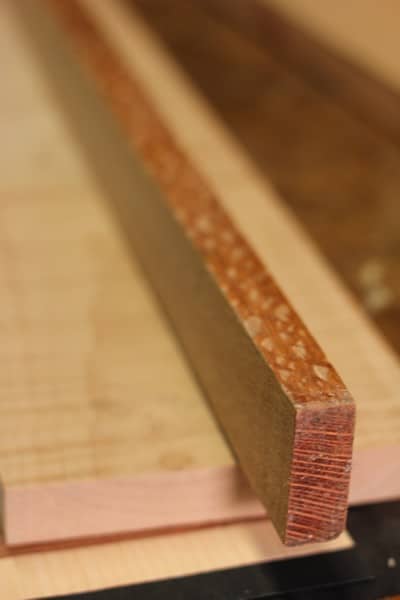 Lacewood is an extreme example because it has such strong medullary rays as you can see in the photo above.  They are so strong (visually) that it almost looks like the piece above is quarter-sawn on the wide face, but those are just the medullary rays not the grain lines of the piece. The quarter-cut face is the top, thinner face, and it cuts right across those rays giving maximum Ray-Fleck pattern in the finished piece. I really like the way it looks, and I make my purfling so that the visible edge of my stripes have this strong ray fleck shimmer as you might be able to see in the guitar pictured below.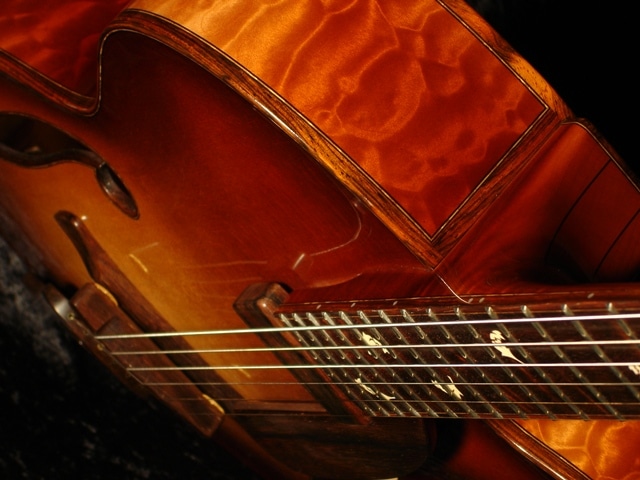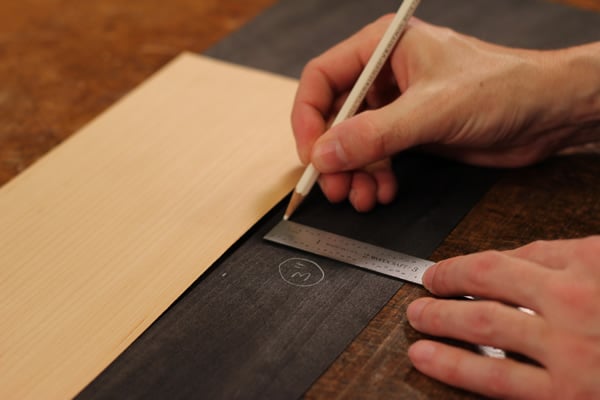 Once I have my materials selected and my veneers cut and thickness sanded if necessary, I can get set up to glue up the stack. I make mine 3″ wide, it's a good size for me to work with and makes enough purlfing for a whole guitar on most of my guitar designs. Sometimes a more complex design might need two of these 3″ wide stacks. The length is the same as the length I use for my bindings.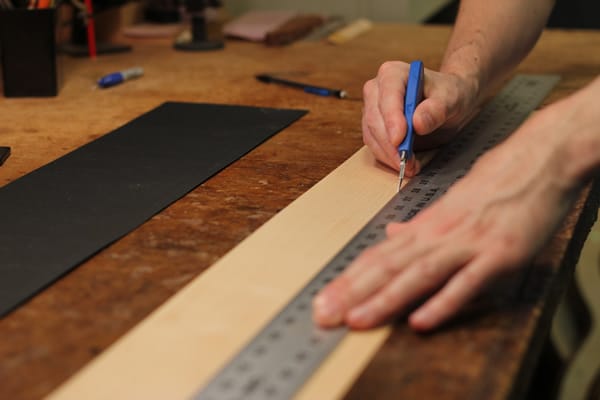 For most wood veneers a nice sharp scalpel and a straight edge are all you need to make the cut. It doesn't need to be perfect because we will be re-sawing or re cutting this later anyway to make our purfling strips after the veneer stack is glued.
TIP: Don't use your good straight edge for this, the blade will wear away at the edge and eventually it won't be perfectly straight anymore, I use a dedicated aluminum yardstick I use for this that I got from Home Depot that has held up pretty well.

---
Special Material & Material Supplier
Luthier'sEDGE members log in to unlock this content or download the ebook
Get This Book & Tutorial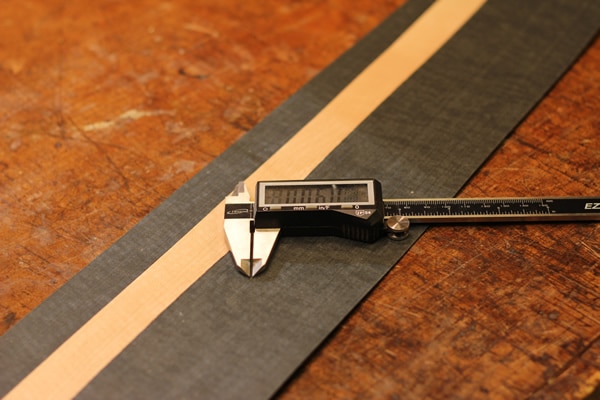 Once I have my pieces for the stack cut to width and cleaned up a little I am ready to measure them with a caliper to make sure the thickness of the veneer stack will be accurate after they are glued together into a sheet.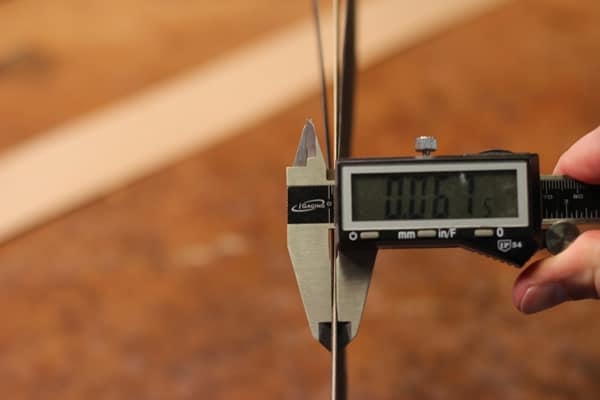 For this one, I want exactly .060″ so I as you can see this stack of veneers is a bit wider that I would like at this point.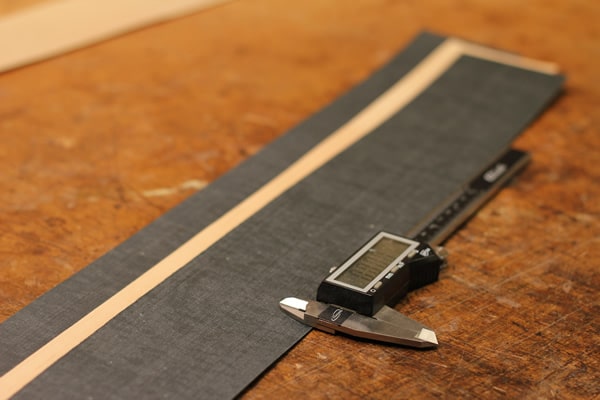 Another great thing about the fiber is that is sands great on my drum thickness sander. I just walk over and run it though a few times with a finer grit paper on the drum sander and check until I get the perfect size. I already made my center wood veneer to the perfect thickness I want, so I am doing this final  thicknessing to the black veneers, removing an equal amount for each side.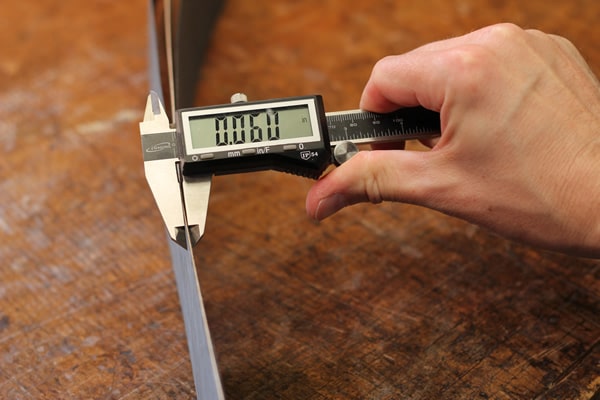 Now I have it just right and I'm ready to glue up the stack using a few very important tricks without which this wouldn't be nearly as easy and wouldn't look as good on the guitar.
Special tips and tricks for gluing and cutting  the purfling are outlined in the step by step tutorial for LuthiersEDGE members – Log In or Download eBook To view

---
Get The Full Article, Step By Step Tutorial, & Important Tips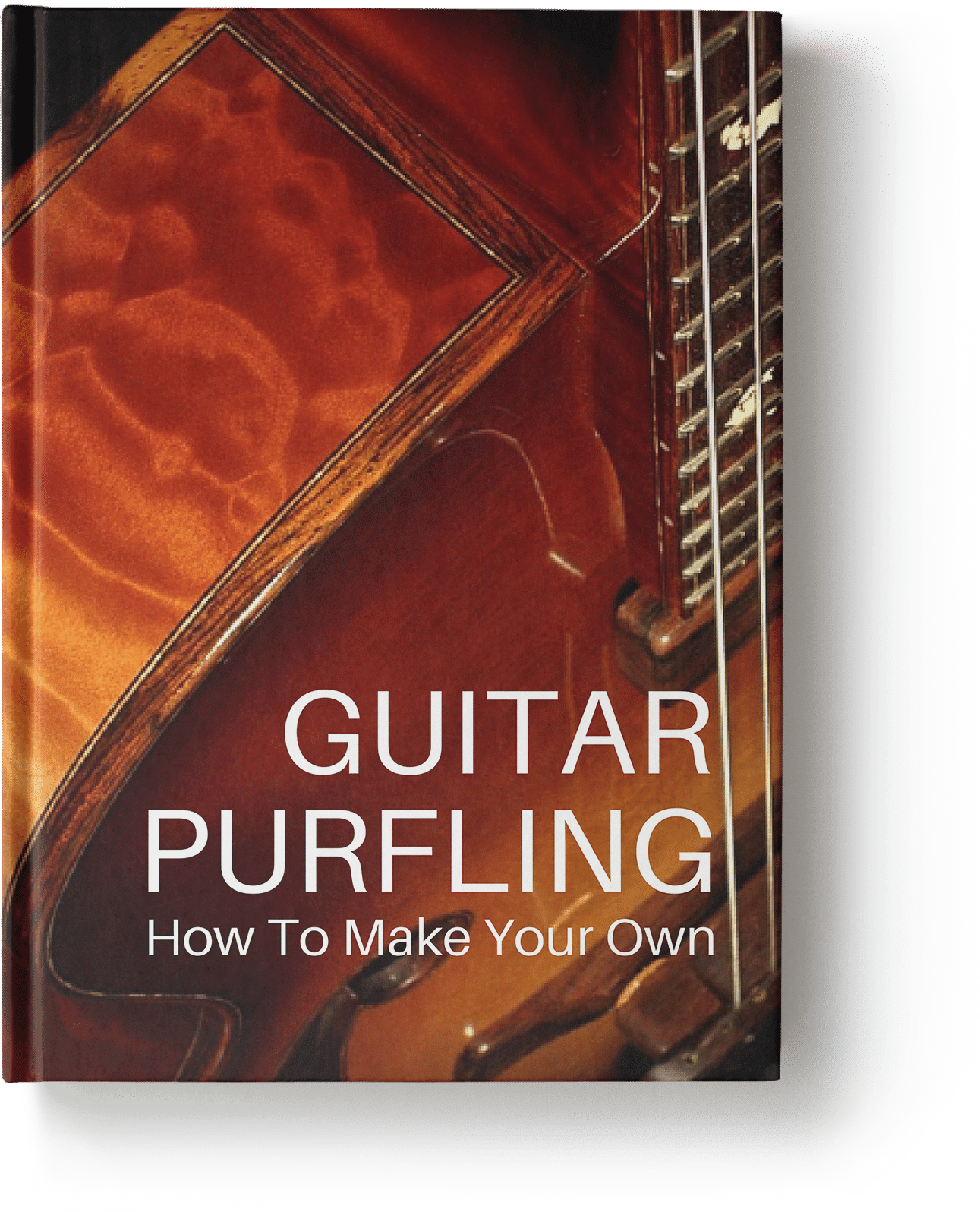 Make your next guitar more refined, elegant, and unique. Learn how to make your own custom wood guitar purfling in this 44 page eBook & Step By Step Tutorial
Special Materials & Sources  
Special Adhesives
Tips for Cutting Purfling
Gluing Cauls and Techniques
And Much More
Get This Book & Tutorial