Click or swipe to see the Montelone shop tour photos:
An important part of being an artist is never loosing ones childlike curiosity and teachable spirit. Every artist must remember that there is always more to learn and more room for growth.  Being mindful of this aspect of art is what keeps me moving forward and always inspired to push through to the next level. This is also one of the reasons why I started theartoflutherie.com. I wanted to use this website to teach and communicate what the art of lutherie is to me as I move along my personal journey of being a luthier, but also to share with my students and readers what this great art form is to other masters of the craft as well. So with that in mind, I am excited to introduce you to my latest field trip to visit renowned archtop guitar and mandolin maker John Monteleone.
Monteleone Guitars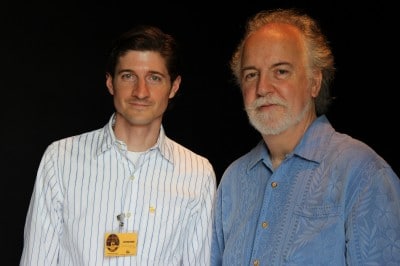 Ever since the first time I saw an archtop guitar made by luthier John Monteleone, I wanted to one day visit his shop and spend a little time learning from him, it was immediately obvious to me that he was an artist at heart. I happened to meet John while at a guitar show in Italy a couple years ago where we shared a booth together and had time to chat about lutherie, play one another's guitars, and hang out with our mutual friends there. John and I discover that our families originally came for the the same small town in Sicily called Palermo. ( Yes I'm half Italian , I bet you never guessed that with a name like Bills.)
A New York State Of Mind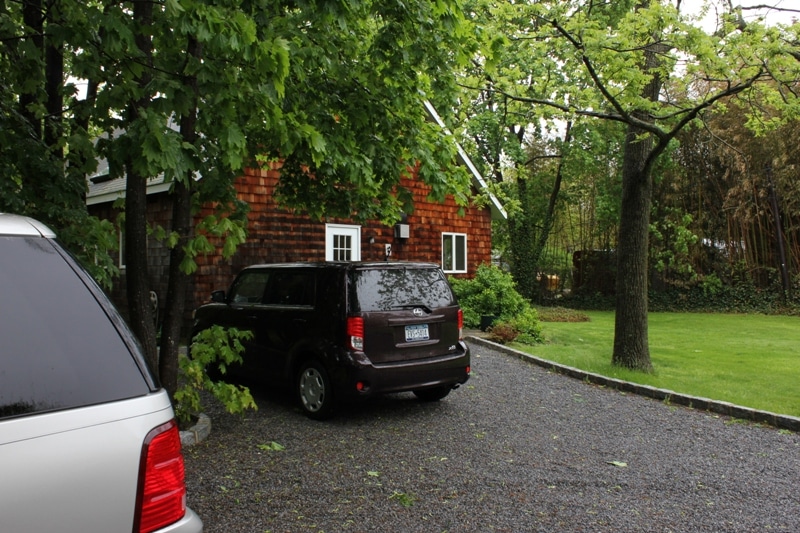 Just recently I found out that I would be in New York visiting a guitar boutique in Statin Island and I thought it would be a perfect opportunity to stop by and pay John a long overdue visit, so I called him and he graciously fit me into his schedule.
The day of my visit was an usually cool spring day with gray sky's and light rain, but the atmosphere in the workshop was warm and inviting. The Monteleone shop is in a wonderfully designed little building on his property behind his home. John put a lot of thought into this workshop, carefully considering every detail. He shared with his approach to creating this space, including how he first built a small scale model of the proposed building and placed it on the picnic table in the backyard. He rotated it around to find just the right position to catch the sunlight at different work areas inside as he needed it. A great idea I'll be stealing when I build my new workshop 😉
Monteleone Shop Tour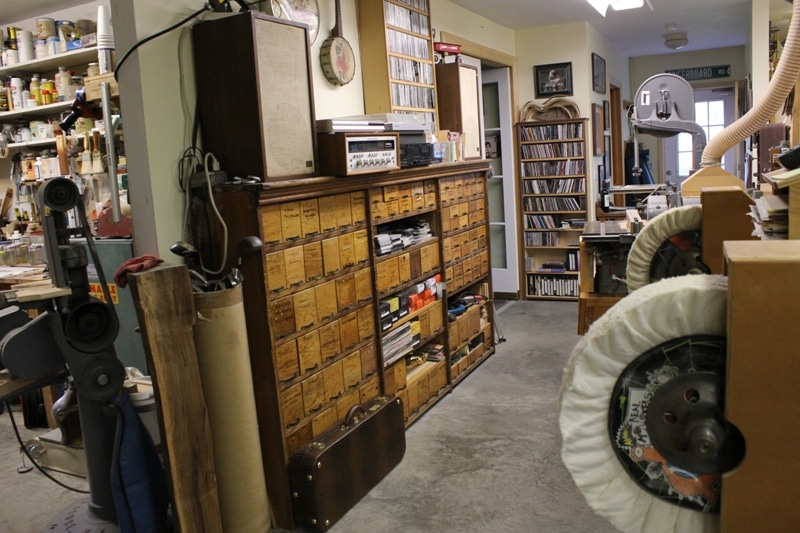 After a great tour of the shop and a hot cup of coffee, I was able ask John a few questions about the finer points of carving and voicing the archtop guitar. My questions varied from specific technical questions, to more broad ranging questions about art and its meaning in relation to the craft of hand making guitars. To each of my questions John generously shared with me his insights, experience, and advice; all of which I found to be informative, enjoyable, and inspiring.
Fine Tuning The Recurve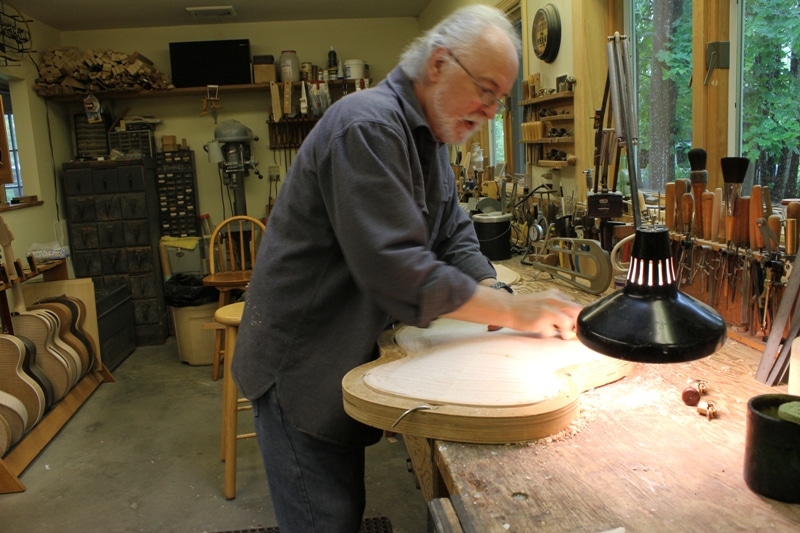 One topic we spent some time on was in regard to the recurve of the Archtop guitar, which seems to keep coming up lately as I have been discussing the physics of this specific point with my friend and mentor Gila Ebon ( a student of Jimmy D'Aquisto – more on this in up coming articles). John Monteleone and I focused on how the recurve area can dramatically effect the function of the soundboards movement, as well as how to fine tune this for optimum responsiveness and desired tonal effect.


Lessons From The Masters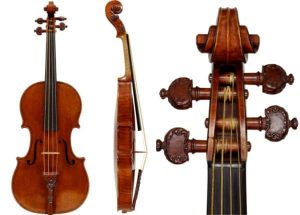 An interesting fact that John shared with me about the re-curve is that the Stradivari violin plates are carved with the thinnest portion of the re-curve moved further into the guitar plate and away from the side of the guitar. On the other hand the Guarnieri violins have the thinnest portion of the re-curve nearer to the edge of the guitar.
John also mentioned that some well respected violinists he knows had commented that after playing the two violins they noticed that the Stradivari had such an usually beautiful voice, but they found it more difficult to draw that voice out. However,when they were able to get the voice to come out, it was strikingly beautiful and unique.The same players also reported that the violins made by Guarnieri were easier to play and they didn't have to work as hard to bring out the voice, but they never quite reached the same level of beauty and expressiveness of the Stradivari.
This rings true with me, as in my personal experience I was carving my re-curve too close to the edge in some of my very early guitars. It seems that over the years I have been slowly bringing this thinnest portion out from the side and more gradually and gracefully sweeping it out into the plate with great results on my Archtop guitars.
Jimmy D'Aquisto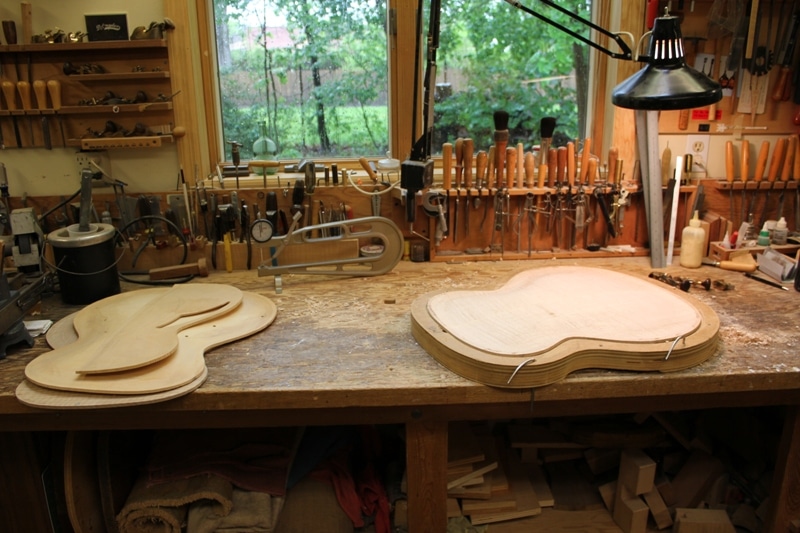 Of course no advanced archtop guitar making discussion would be complete without at least some mention of Jimmmy DAquisto and we met that requirement as well. First John showed me the last of D'Aquisto's wood that he had joined up to use on some upcoming projects. Then we moved on to discussing the fact that Jimmy did most of his tuning and thicknessing of his archtop guitar tops and backs after the guitar body was glued together. This is different from the way John builds, and we talked about the different advantages of each method.
[margin20]
Absorbing The Information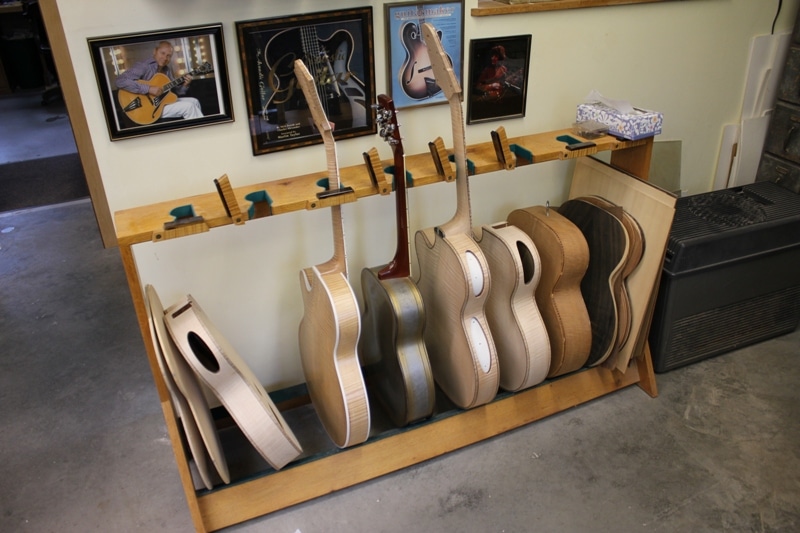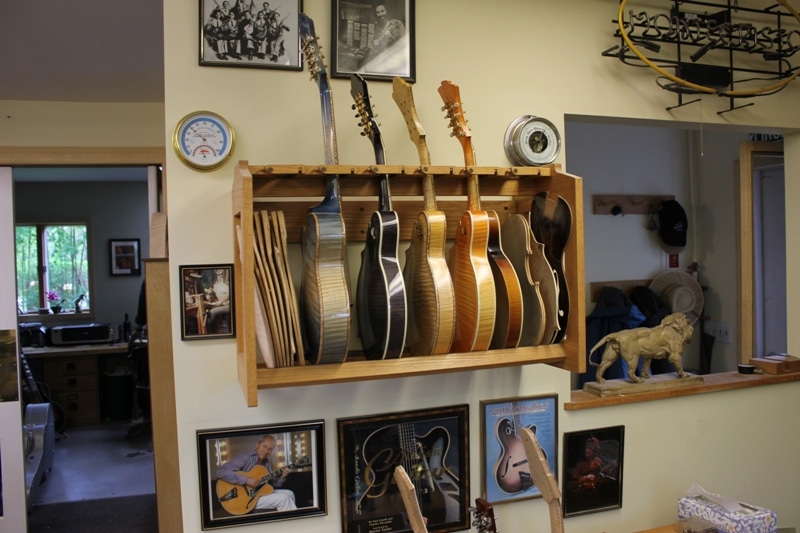 Being able to handle and closely inspect some of the soundboards, backs, and guitar bodies that John was working on really helped to provide me with some valuable tactile information. The kind that you can only see and hear through your fingertips and that you have to kind of absorb intuitively, which I think gave me more insight than many hours of talking ever could.
[margin20]
Don't Build In A Vacuum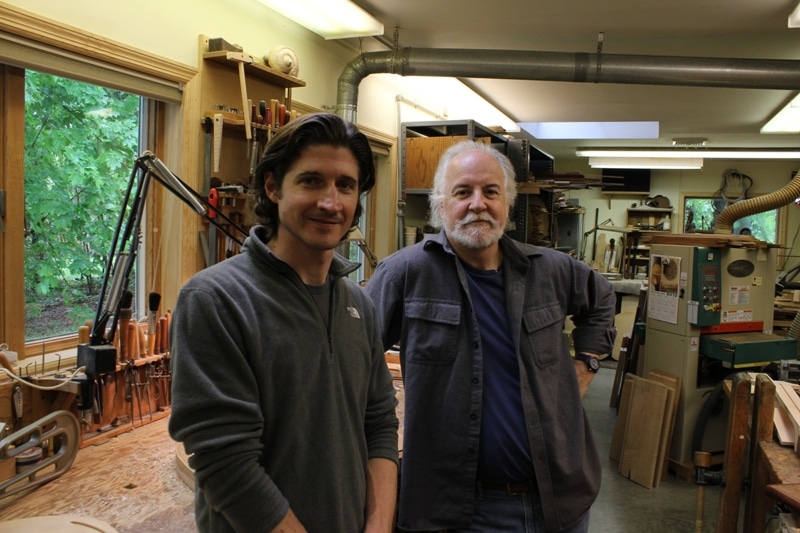 I think visiting with a fellow luthier especially a master such as John Monteleone, really helps to solidify the theory's you may have. As luthiers we are perceiving different things about our work, but it can be difficult to objectively and accurately draw conclusions as to the effect of whatever changes or new experiments we are trying out on the final instrument.
Hearing the guitars of another luthier and understanding the way they are treating the guitar and listening to the effect they get, can really create a point of reference for what you are doing, as well as help to verify or nullify some things you may have been thinking were taking place in the behavior of your own personal experiments.
Playing The Four Seasons Archtop
I have to say one of the best parts of my visit was getting the chance to play the Four Seasons "Winter" guitar that John had at the shop. It was part of John's recent exhibit at the MET Called Guitar Heroes.
It was breathtaking in its sound and responsiveness. What better way to complete my experience than hearing the finished product and it certainly did not disappoint!
Resources
If you haven't checked it out yet be sure to visit John Monteleone's website and if your a guitar builder interested in Johns approach, read his article in the GAL issue number 62. We touched on many of the points from that article in our discussions.