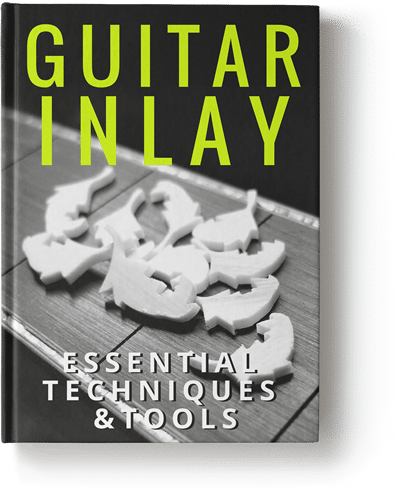 When it comes to designing guitar inlay and guitar design in general for that matter, I naturally gravitate toward a less-is-more approach, and even more so the older I get and the more guitars I build. I wasn't always that way though, and I still occasionally get carried away with something and get things overly complex. Guitar maker types like you and I seem to be a personality mixture of artist and scientist, and for me at least, the scientist wants to get in there and over-engineer everything and get too mental and needs to be kept in check a bit.
I was always a pretty artistic and creative guy, building things with my hands, or creating artwork, and later music. I started out in college as a double major in jazz guitar and oil painting. But it was my high school art teacher Mr. Coughlin that first tried to get me to understand the value of keeping my designs simple and essential. He always told me to K.I.S.S. my paintings. In case you haven't heard of it before, to "K.I.S.S." it means to "Keep It Simple Stupid". Being a young rebellious teenager at the time I only understood a small part of what that was about, but even then it helped me improve my work a great deal.
K.I.S.S. it! Keep It Simple Stupid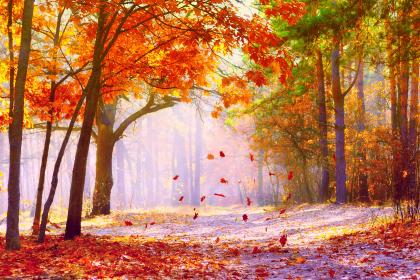 Years later when I was designing the inlay on some of my early guitars, that approach still stuck with me and by then my understanding of refining a design had deepened. I had embraced and endeavored to apply this approach best summed up by the famous quote by Antoine de Saint-Exupery; "Perfection is achieved, not when there is nothing more to add, but when there is nothing left to take away."
That particular day happened to be a crisp fall day here in the middle of America. The leaves of the giant Oak trees in my yard were gently cascading down in their annual and graceful dance. I was struck by the flow and the lines of the leaves as they fell. There was an elegance to the way they floated so gently through the air. An organic and unmeasurable quality to the essence of what I felt and saw that day being there in the moment.
Guitar Inlay Design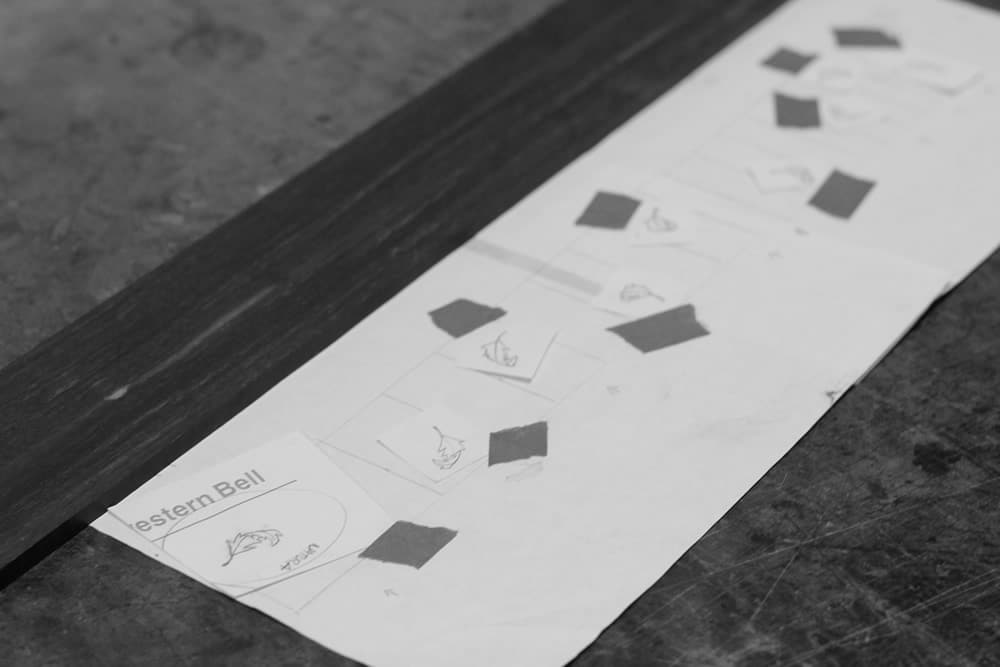 I thought leaves would make a nice inlay for a guitar fingerboard so I got to work. I first drew Oak leaves of course. I was careful to get the right number of points on the leaves, the right shape, and every other detail to be photo perfect. Then I got worried, maybe they should be Maple leaves because the guitar was made of maple, so I started version 2, but then I remembered the way I felt when the leaves were falling. The type of leaf isn't what filled me with awe and inspiration at the sight of the leaves cascading slowly to the ground.
I immediately sketched a new version, this time I made some leaves that were just leaves. No certain type, not even perfect or photorealistic. I knew that to really communicate the feeling I needed to remove the specific leaf shape and focus all the attention on the grace and natural elegance of the falling pattern. And even then I still had to force myself to make it simple, as simple as possible.
Writing this now it makes me think about the first time I saw the Water Lillies by Monet in NY. What a feeling those paintings convey! Still some of my favorites to this day. I love them because of the feeling I get when I look at them, not the measure of photorealism, but the way Monet communicated the feeling he saw and experienced through his medium to me and countless others. Art is a language for communicating. Take a look at Monet's painting below how does it make you feel?

Of course, this is always a journey and every day I am still learning more and getting better at seeing, understanding, and communicating my story, my essential message. But the journey itself, and staying on that path, are the goal and the way to continuously building better guitars in both form and function.
Tell Your Story
There are many ways to tell a story with your guitar inlay. The minimal approach I am talking about here is just one of them. The important point I want to convey here is that as an artist I find it most effective for me when I start with the essence of the story, in this case, the way it made me feel when I watched those leaves falling, in your case it will be different. Work down to the root, the essence, then look for ways to communicate and tell that story in your inlay and maybe even your whole guitar design. If it needs a little more complexity or photo realism then go for it, but you'll be creating art and conveying your feeling or idea which can be very powerful.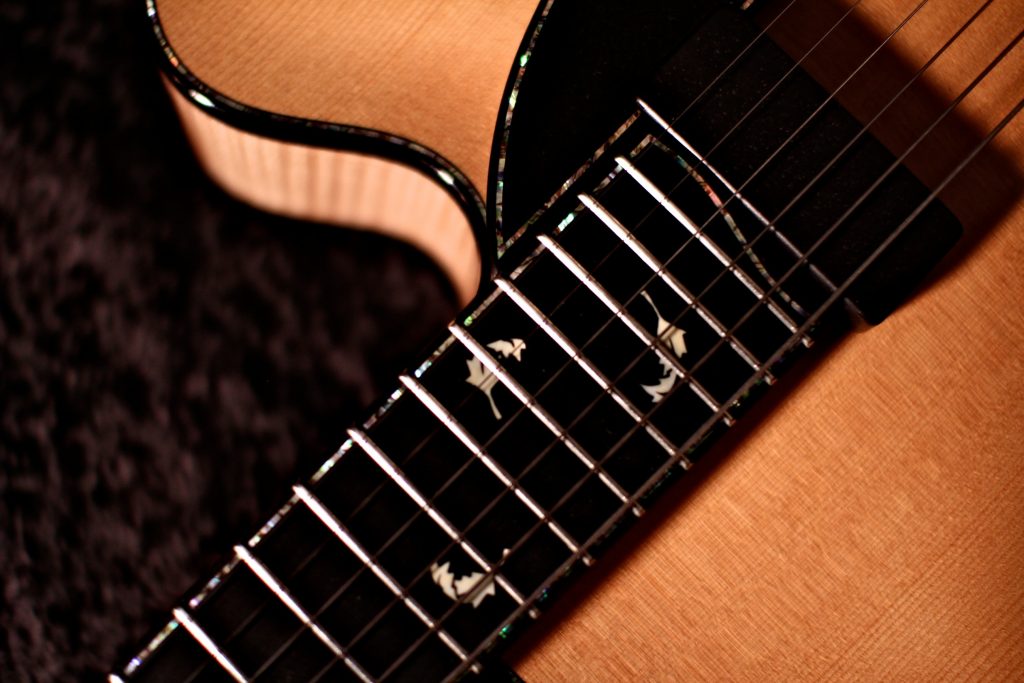 New Guitar Inlay Video Course & Tutorial
In the New Luthier's EDGE Step By Step tutorial and Guitar Inlay Video Course, I will show you my simple techniques I use for cutting and inlaying and engraving my designs for my guitars. You'll also see how the simple inlay design itself makes the process of doing the inlay work much easier and more forgiving. Click the links below to learn more and to access the tutorial and video course.

Guitar Inlay: Step By Step Tutorial
In the step by step tutorial, "Guitar Inlay: Essential Techniques And Tools" master luthier Tom Bills shares his insights, experience, and step by step approach to creating simple and beautiful guitar inlay with minimal and inexpensive tooling.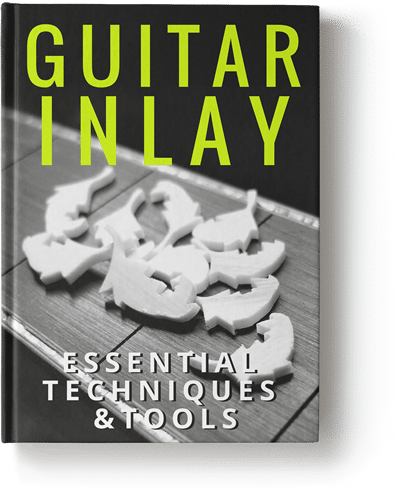 Step By Step Photos
Design
Tools
Cutting Inlay
Routing and Fitting
Engraving
Adhesives
43 Pages
New Guitar Inlay Video Course