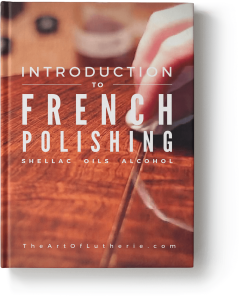 Welcome to the Introduction to French Polishing Part 3: Techniques and Videos.
In this installment we will be looking at the basic approach I use to apply my shellac finished using the French polishing technique to my guitars. There are three special demonstration videos here to help clarify and simplify these basic concepts in order to help you grow and become more confident and successful in your French polishing endeavors. These videos are taken from The Art Of French Polishing Video Course.
In case you missed them, there are two other parts to the Introduction To French Polishing series, use the following links to check them out: Part 1 – Shellac & Part 2 – Alcohol and Oils
If you are a Luthier's edge member or if you're enrolled in The Art Of French Polishing video course, you can log in too access the full tutorial: Introduction To French Polishing which contains this entire 3 part series plus 3 demonstration videos.
French Polishing Techniques
The traditional technique of French polishing refers to the way that the shellac finish is applied to the guitar. This is most commonly done with a cotton cloth, usually with some type of core material inside. The quality of the finish is completely dependent on the proper technique being used to apply it. It takes years of practice to fully master this and if approached correctly, can be an incredibly enriching experience as it was for me. Mastering the French polishing technique forces one to develop control, strength, and patience.
Making The Pad
[margin20] If you have done much research on French polishing you may have discovered that there are many different terms used for what I am referring to as the Pad. It is sometimes called a rubber, a muneca, a fad, as well as other terms. I'll just be referring to it as a pad here in this article. There are also as many ways to make the Pad as there are names for it. In the video below I'll be showing you the way I was taught to make the pad by my teacher Eugene Clark using cheese cloth. I'll also be talking about some of the basic and fundamental techniques I use for applying the shellac varnish using the French polishing technique.
Pore Filling
[margin20]
The traditional method for pore filling when French polishing a guitar is to use a natural material called pumice. There are many other methods that one can use for pore filling such as epoxy or other types of synthetic pore filling mediums. I personally prefer the simplicity and natural qualities of the traditional pumice powder. I have found that when the technique is mastered it is very fast, easy to do, and always has the perfect color match. Watch the video below for brief introduction to pore filling with pumice.
French Polishing Technique Basics
[margin20]
One of the reasons I love to teach French polishing, is because I feel that it embodies the heart of the traditional craft of lutherie. Through learning and mastering it, the luthier will raise the quality of his or her instruments and the quality of their time in the workshop as they begin to view the work thorough the unique lens of their newly acquired skill set and sensitivities.
When I learned this ancient art from my teacher Eugene Clark, it not only helped me to make my guitars sound noticeably better and look more beautiful, but it also raised my awareness of my body as pertaining to my technique in all the tasks that I perform as I create my guitars. Mastering the art of French polishing involves mastering your body and mind, and spills over into every area of your life. Looking back I can say that mastering the French Polishing technique was one of the hardest things I have ever done, and also one of the most beneficial, enriching, and rewarding as well.
[fancy_box]


---
Take The Full French Polishing Course
Click Here To Access This Course!
[margin20]
And Check Out The Full Tutorial Too
Introduction To French Polishing: Shellac, Oils, & Alcohol
When learning to French Polish a guitar, having a solid understanding of each component of the finish and what the function of each ingredient is, will set you up for success as you develop your own systems for obtaining a beautiful hand rubbed French polish finish.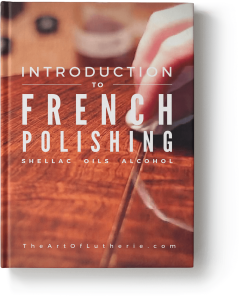 Understanding Shellac
Types & Colors Of Shellac
Types Of Alcohol for French Polishing
Types & Uses For Different Oils
Drying Oils
Non-Drying Oils
Video 1 – Making the Pad
Video 2 – Pore Filling Basics
Video 3 – Basic Technique
17 Pages
Get This Tutorial
[/fancy_box]