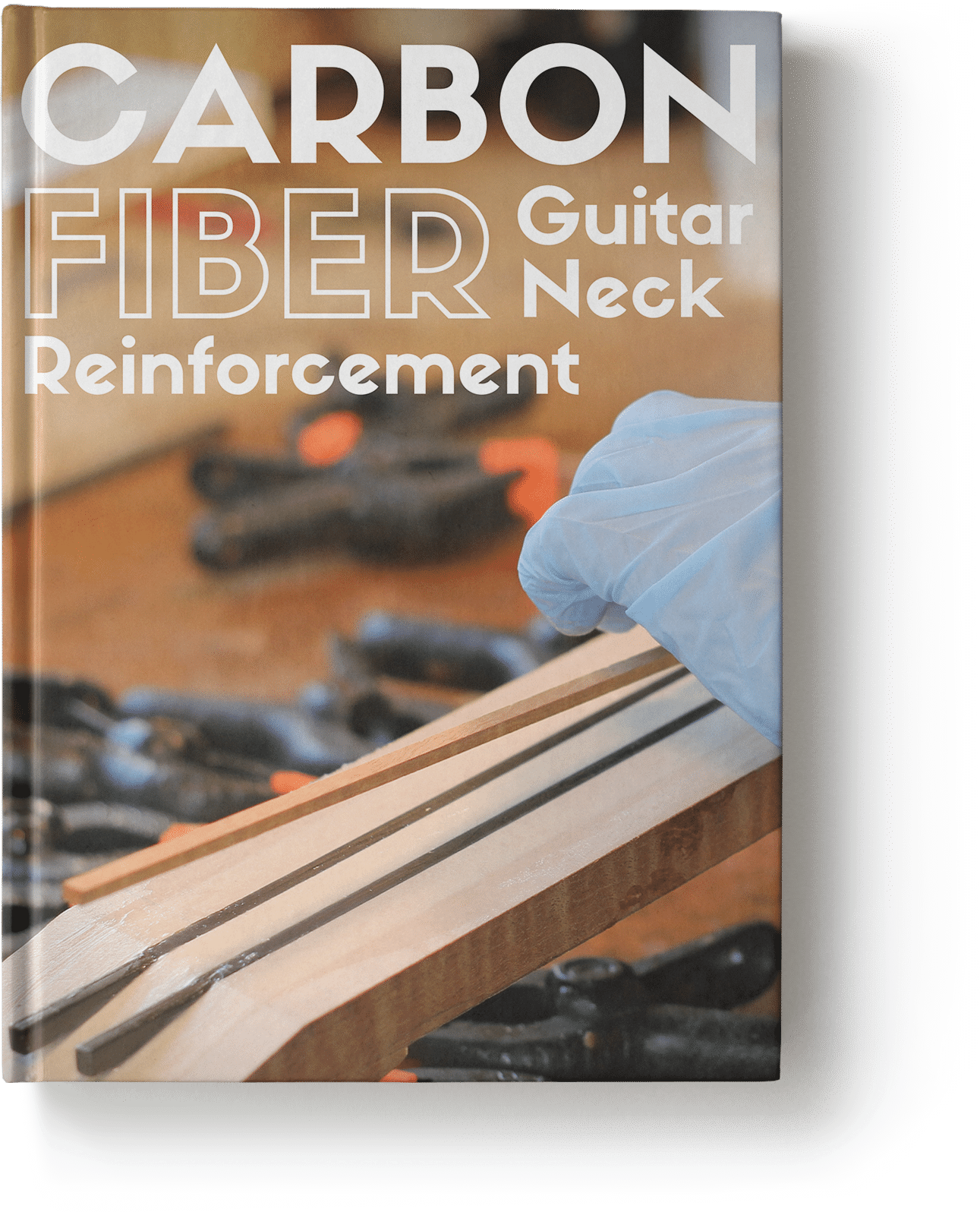 Welcome to a new series on carbon fiber guitar neck reinforcement!
Part 1 – Basics of Carbon Fiber – What it is, how it's made, applications for luthiers, and more.
Part 2  – Focused on how to design your neck reinforcement system and get the most from your carbon fiber neck bars.
Part 3 – Detailed step by step tutorial where I demonstrate and explain my process for preparing and inlaying carbon fiber bars into my guitar neck blanks. (Luthiers EDGE Tutorial)
For more information on the Step By step tutorial and Carbon Fiber Video Course visit this link or click the book to the right. 
Guitar Neck Design With Carbon Fiber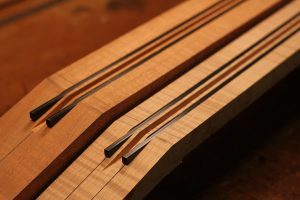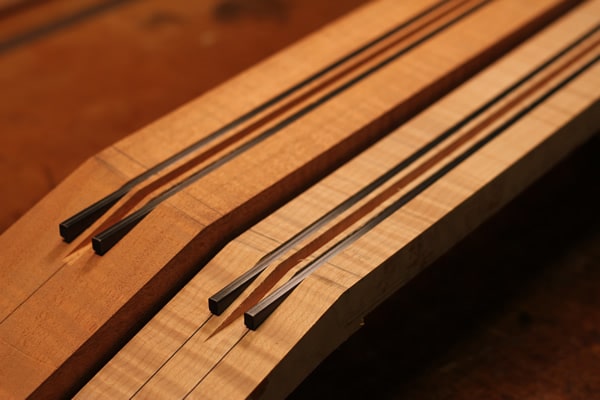 There are many different design variations for effectively using carbon fiber. The factors that may guide you in finding the best layout for you guitar might include, the neck profile, thickness, string tension, woods used for the neck or fingerboard, and other factors.
You probably know that we get the best stiffness from a material by making it taller (as opposed to wider). So it's a good idea to use the tallest carbon fiber bars you can that will safely fit within the design requirements of your guitar neck.
Here is the way it works out for me; I put my truss rod in the center and then leave ⅛" of neck wood on either side of the truss rod channel. Then I route my channels for the carbon fiber rods into the neck blank at a depth that is .020" deeper than the height of the carbon fiber bars. In my case I'm using the bars from Stew Mac that measure .25" tall, so my channels are cut to a depth of .27".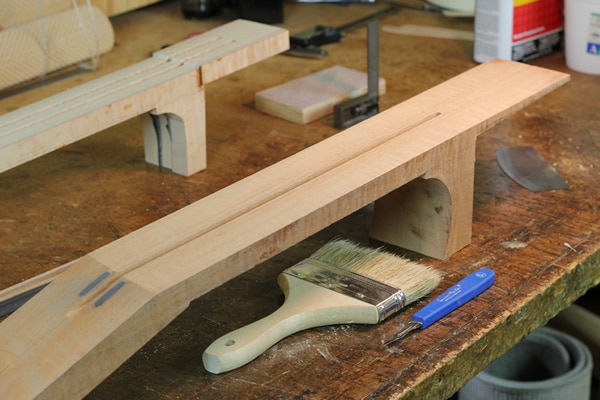 I do this so that I can glue in a filler strip of wood over the top of the carbon fiber bars in order to make sure that my fingerboard is glued in place with a wood to wood joint everyplace along it's surface. I do this to ensure a good glue joint and also to ensure evenness of tone all over the fingerboard. I also find that inlaying the carbon fiber bars as deep as possible into the neck results in more stiffness too.
Carbon Fiber Guitar Neck Layout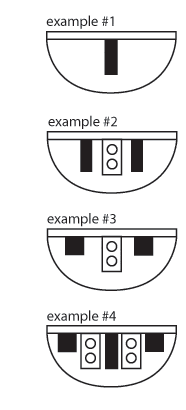 On the right are a few photos from an article you might want to check out over at Stew Mac showing and discussing some different carbon fiber reinforced neck layouts. Click the preceding link or click on the photos to view that article.
You do need to make some drawings though and be sure that you will not hit those bars as you carve your neck profile, so take time to make sure your design is solid and your measurements and calculations are correct.
Elevated Fingerboard & Neck Extension
One other aspect of designing your carbon fiber reinforced guitar neck is thinking about the portion of the fingerboard that extends out over the body of the guitar.
I like to use an elevated fingerboard design for archtops, steel string, and nylon string guitars to help the fingerboard surface stay stable and have the proper shape for optimum setup and playability as well as stability over time.
The elevated fingerboard also gives me a nice way to extend the carbon fiber out over the body of the guitar for stability, set up, and evenness of tone.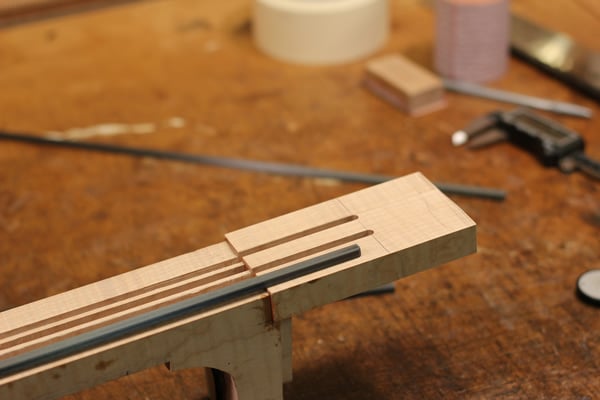 Get The Carbon Fiber Guitar Neck Reinforcement: Ebook and Video Course
In the first two parts of this series, I shared with you all the information you need to form a solid understanding of carbon fiber and the fundamentals of using it effectively in the guitar neck design. The next step is Part 3 where I show you my critical tricks and tips that I demonstrate in the video course and the tutorial that have helped me to harness the amazing properties of carbon fiber and to build stable and strong guitar necks using carbon fiber bars for reinforcement. See below for more info:

Exclusive 5 Part Video Course:
Carbon Fiber Neck Reinforcement
Get All 5 Videos & The eBook Tutorial!
In this eBook & Video Tutorial, "Carbon Fiber Guitar Neck Reinforcement" master luthier Tom Bills shares his insights, experience, and step by step approach to effectively using carbon fiber to make stronger and more stable guitar necks.
Instant Digital Access
Step By Step Photos
What Is Carbon Fiber?
How Carbon Fiber Is Made
Guitar Making Applications
CF Reinforced Neck Design
Using Specialized Epoxy Resin
Cleaning And Preparation
Gluing Methods
Final Cleanup & Leveling
*

* 5 HD Instructional Videos Included*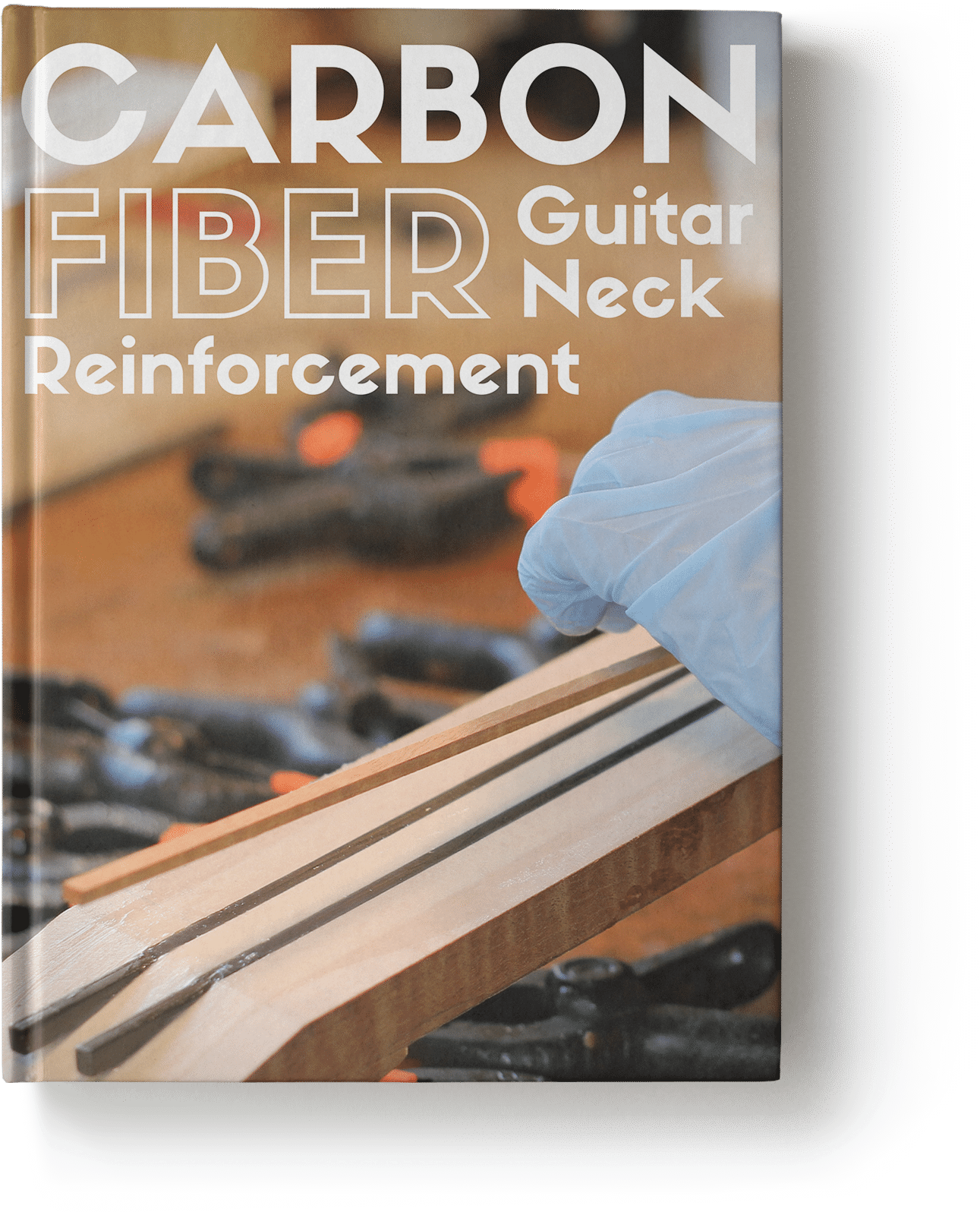 Take Your Guitar Building Skills To The Next Level!

Online Guitar Luthier School & Mentorship Program
Shorten your learning curve & avoid costly mistakes with the training and personal support you need to build your first guitar or take your current guitars to the next level.