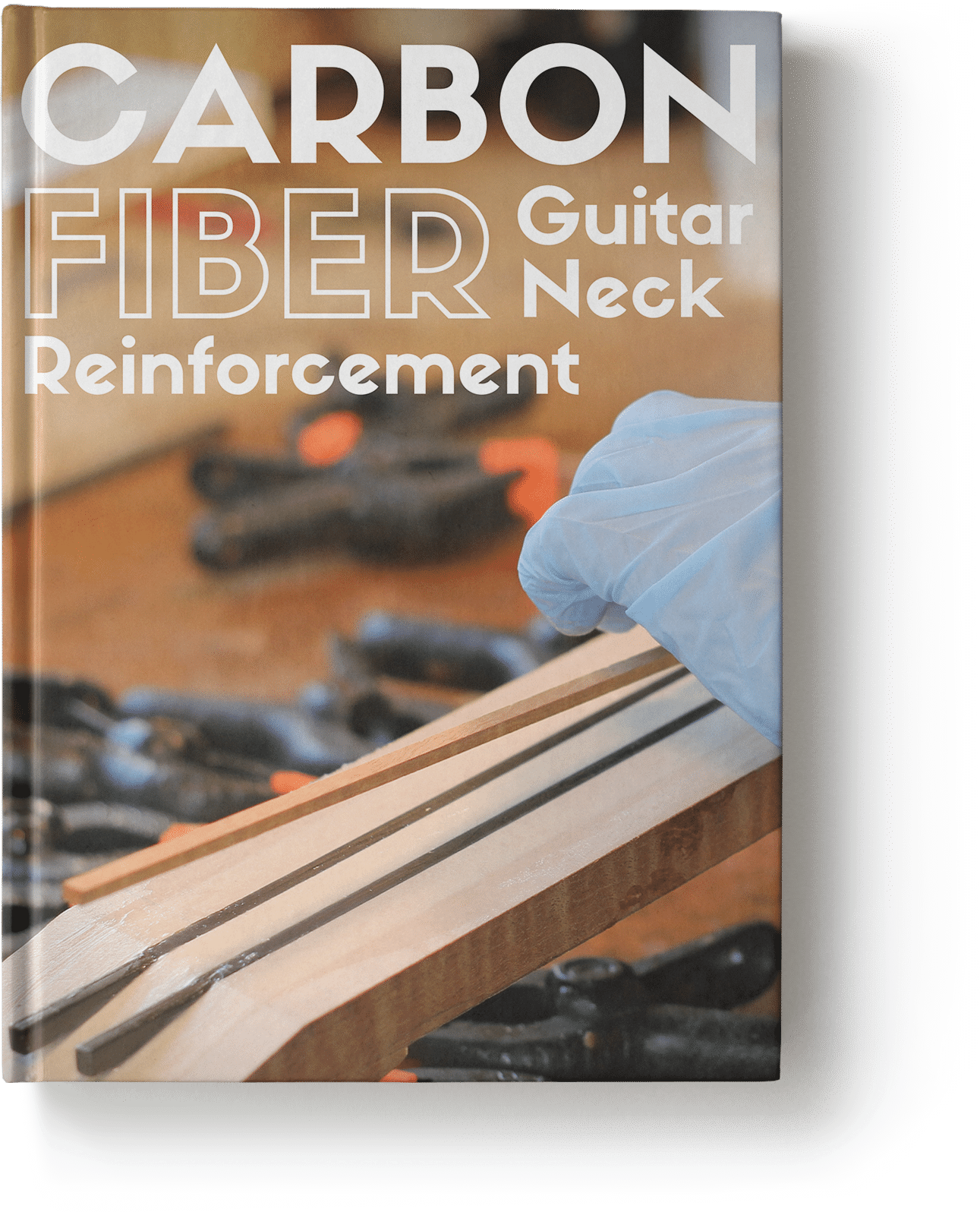 Welcome to a new series on carbon fiber guitar neck reinforcement!
Part 1 – Basics of Carbon Fiber – What it is, how it's made, applications for luthiers, and more.
Part 2  – Focused on Carbon Fiber Design how to design your neck reinforcement system and get the most from your carbon fiber neck bars.
Part 3 – Detailed step by step tutorial where I demonstrate and explain my process for preparing and inlaying carbon fiber bars into my guitar neck blanks. (Luthier's EDGE Ebook)
For more information on the Step By step tutorial, 5 part Carbon Fiber Video Course, or Ebook download, visit this link or click the book to the right. Luthier's EDGE members can also watch the included 5 part video course too (see video bleow or click here for info: Carbon Fiber Neck Reinforcemnt Video Course).
Carbon Fiber Basics: What It Is & How It's Made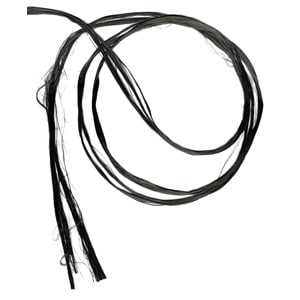 The use of carbon fiber in guitar necks and other parts of the guitar has been growing in popularity over the years and for good reason. Carbon fiber exhibits some wonderful qualities that lend themselves to the making of fine handmade instrument and can offer the luthier some great options for adding strength and stability without unwanted mass. Some of these great qualities include light weight, great stiffness, resistance to creep, and stability.
Carbon fiber (or graphite fiber) consists of carbon atoms combined together in crystals parallel to the long axis. Several thousand carbon fibers are combined to form a Tow (shown in the photo to right) which can be woven into a fabric or used in other ways. The crystalline structure, aligned along the long axis give the material incredible strength for its weight.
To me, it sounds crystalline when you touch it and is very resonant which I think has to do with the organized structure of the crystals, but that's just my hunch. I have also been fascinated by the electrical and heat conduction properties that carbon fiber possesses as well, but that's for another day.
Have you checked out our Carbon Fiber Video Course Yet?
Check out the video below for a preview
History Of Carbon Fiber
When I am using any material I like to know a little bit about it, how it's made, which we discussed above, and also some background. I feel it helps me to improve my intuitive understanding of it which comes in handy to guide me as I'm working with it and experimenting with different ways to incorporate it into my designs. So here's just a bit of background that I found interesting.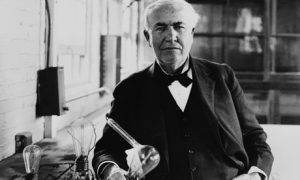 According to Wikipedia (linked above), it seems that none other than Thomas Edison made some of the first carbon fiber when he was inventing the light bulb. He superheated cotton thread and bamboo slivers to produce carbonized fibers for his filaments used in some of the first light bulb experiments in 1879. ( Thomas Edison shown in photo to right with a carbon filament light bulb )
It wasn't until the 1960's though that the process and technology were able to create the material pure enough to take advantage of the amazing high strength to weight ratio of carbon fiber. Rolls-Royce was one of the first companies to begin using it for their propeller blades. From there, the material was further refined and went on to be used many specialized and amazing applications such as fine musical instruments.
Carbon Fiber Applications For Guitars
There are many different uses for carbon fiber in guitar design, ranging from simply laminating into tone bars, neck reinforcements, creating a full exoskeleton around the outside of the guitar, making the entire guitar from carbon fiber, and countless other applications too numerous to mention. Below are a couple of examples; on the left is a really cool application of carbon fiber neck exoskeleton by Jeff Traugott , and on the right a full carbon fiber guitar by Rainsong. (Click the images for more info on those guitars. )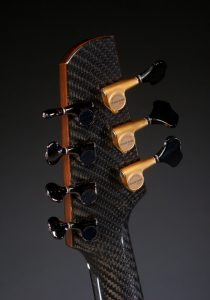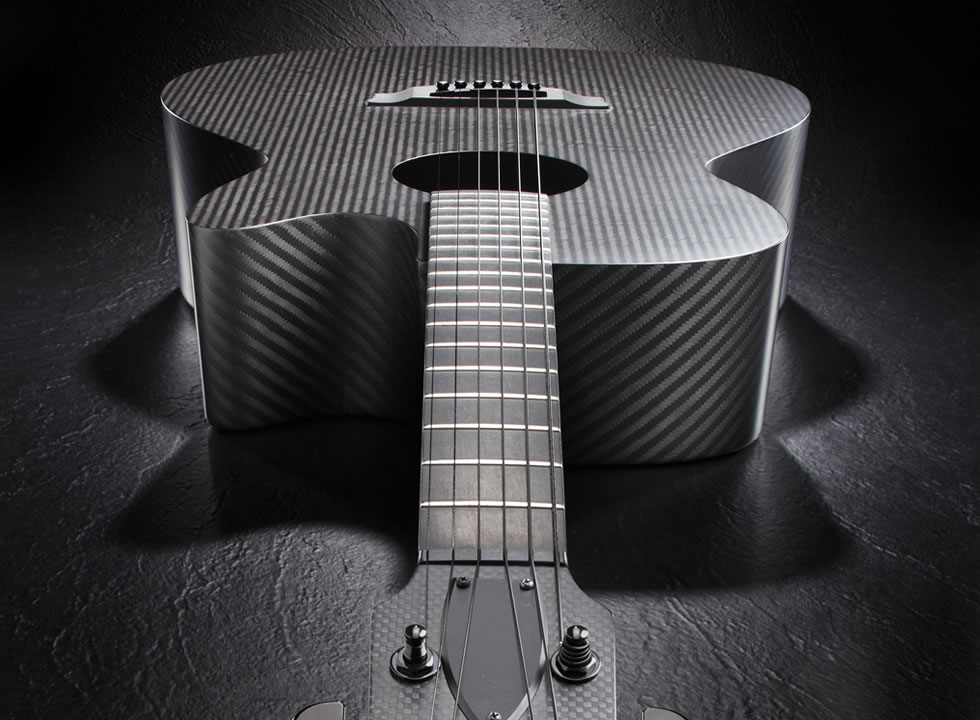 In this article and tutorial series however, we will be focusing on how to harness the high strength, stability, and light weight of carbon fiber in order to strengthen and stabilize the guitar neck.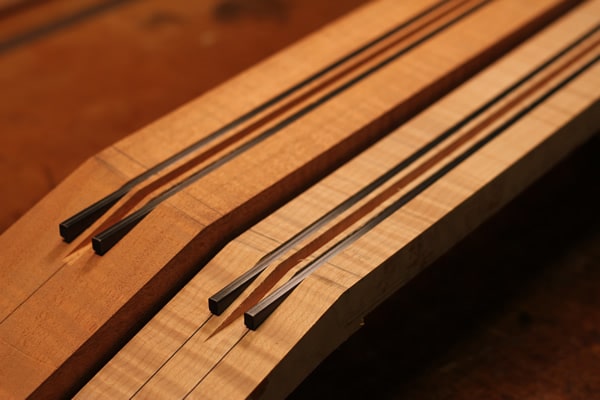 The type I use is from Stew Mac, but I have also used the Carbon fiber from LMI with great results as well. Those two companies offer the convenience of buying it the most applicable size and lengths, but if you look around online you can also find many other sources and for larger quantities you can even have some custom made to your own specs. I find that for my purposes the carbon fiber bars from Stew Mac and their (quantity discount) is a good fit for my needs and my process.
Carbon Fiber Bars For Guitar Necks: Part 2
In Part 2 of this series, I will be showing you exactly how I arrange my carbon fiber bars to get maximum strength and stability for my guitar necks. I'm what you might call detail oriented person, so get ready for a thorough and in-depth look at this important process including some critical tricks and tips I show you in the video course and the tutorial that have helped me to harness the amazing properties of carbon fiber and to build stable and strong guitar necks using carbon fiber bars for reinforcement. Click here for Part 2 or See Below For More Info:

Exclusive 5 Part Video Course:
Carbon Fiber Neck Reinforcement
In the Video Course, "Carbon Fiber Guitar Neck Reinforcement" master luthier Tom Bills shares his insights, experience, and step by step approach to effectively using carbon fiber to make stronger and more stable guitar necks.
Instant Digital Access
Step By Step Photos
What Is Carbon Fiber?
How Carbon Fiber Is Made
Guitar Making Applications
CF Reinforced Neck Design
Using Specialized Epoxy Resin
Cleaning And Preparation
Gluing Methods
Final Cleanup & Leveling
*

* 5 HD Instructional Videos Included*