Click Here To Access The Fanned Fret Guitar Course & More!
New Video Course: How To Make A Fanned Fret Guitar
My Story: The Fanned Fret Guitar Breakthrough
"I started building fanned fret guitars because I liked the way they looked and thought the ergonomic benefits were great too, but I never dreamed that in the process I would stumble onto a discovery that would revolutionize my approach to guitar building. That breakthrough discovery came when I realized just how much control I could gain over the tone of my guitars by being able to precisely control the scale lengths for each string.
The experience of building fanned fret guitars caused a serious improvement to all my guitars regardless of design, because it helped me to understand scale length and what was happening inside the string itself on a deeper level than I had in the past.
My hope is that this course will not only empower and inspire you to design and build your fanned fret guitar, but that this information will have the same deep and transformative effect on you and your guitars as it did on me and mine." – Tom Bills
Watch This Video Overview To Learn How This Course Can Help You Build A Fanned Fret Guitar!
Click Here To Access The Fanned Fret Guitar Course & More!
Course Outline: How To Make A Fanned Fret Guitar
Section #1: Fanned Fret Foundations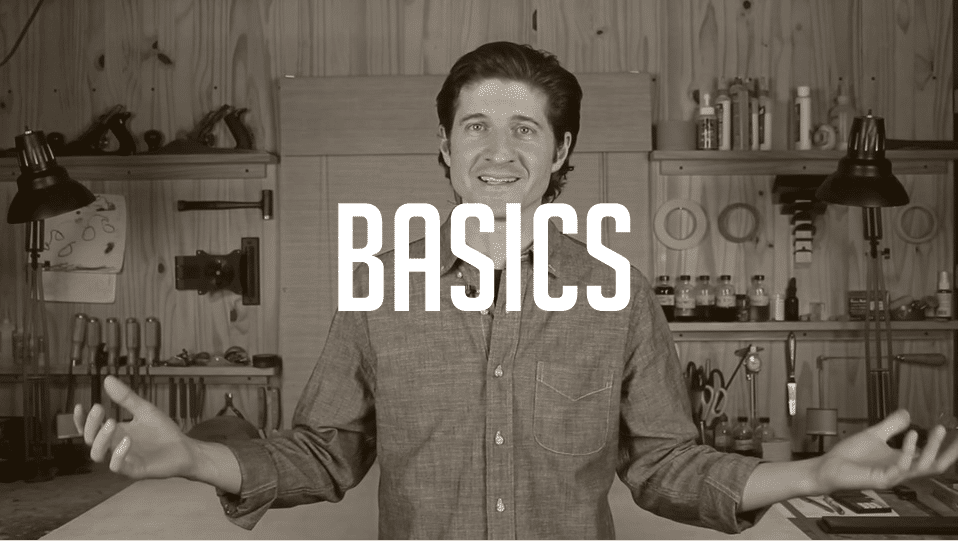 Beginning with a solid grasp on the fundamentals of scale length and other factors involved in the fanned fret system is key to developing a successful fanned fret guitar. The first section is dedicated to making these sometimes confusing concepts easy to understand on a practical level. The instruction then moves to focus on clearly explaining the solution and artistic freedom the fanned fret design gives the luthier. Lastly Tom shares his advice and guidance to help you begin to design your first fanned fret guitar.
Introduction To Fanned Fret Guitars
Why Fanned Fret Guitars?
Your First Fanned Fret
Section #2: Fanned Fret Guitar Design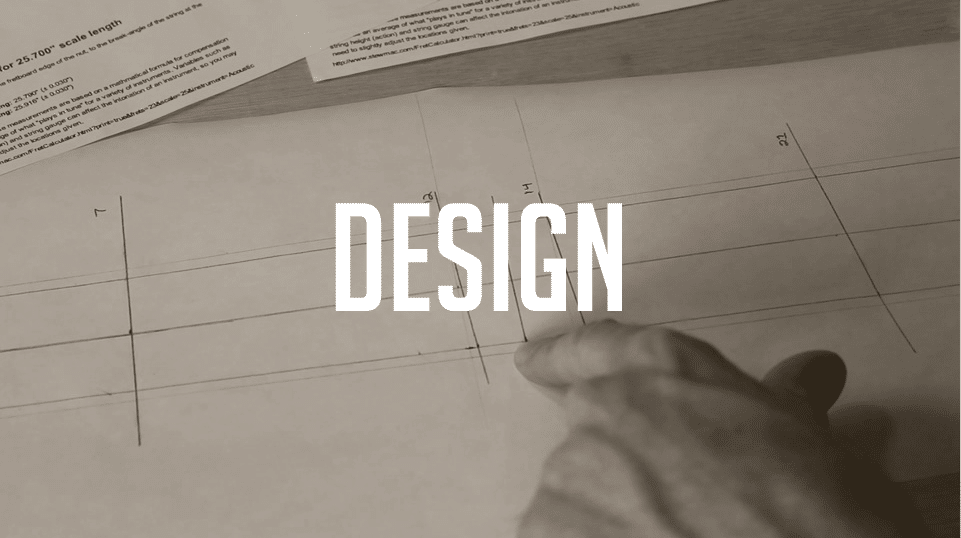 Design choices such as choosing scale lengths and how to lay them out for the best sound and play-ability. Bracing changes are examined as well as compensation and other important design factors.
Fanned Fret Design
Choosing Scale Lengths
Printing Scale Positions
Setting Master Fret
Nut Location
Fingerboard Width
Establishing String Paths

String Paths And Nut
Saddle Position
Main Fret Positions 1
Main Fret positions 2
Bracing Considerations 1
Bracing Considerations 2
Saddle Compensation
Section #3: Layout – Preparing The Fingerboard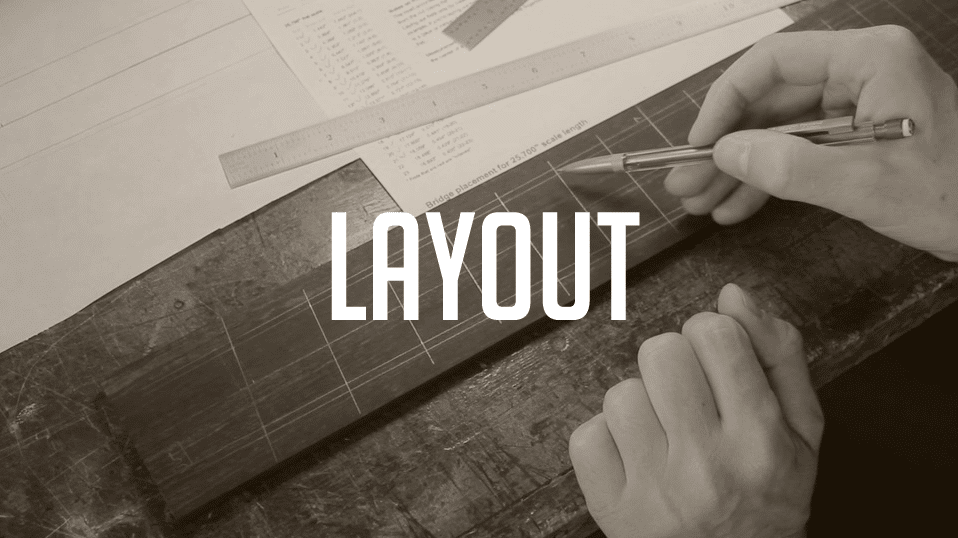 Next Tom shows his methods for accurately marking the fret positions and string paths to prepare the fingerboard blank for cutting. This is where you will make the jump from designing on paper to actually making your fanned fret guitar fingerboard.
Introduction
Marking The Fingerboard
Master Fret & Fingerboard Width
Fingerboard Width
String Paths
Nut Position

Marking Fret Positions
Fixing Mistakes & Marking Frets
Marking Fret Lines
Actual Scale and Double Checking
Checking Fret To Fret
Section #4: Fret Slotting Techniques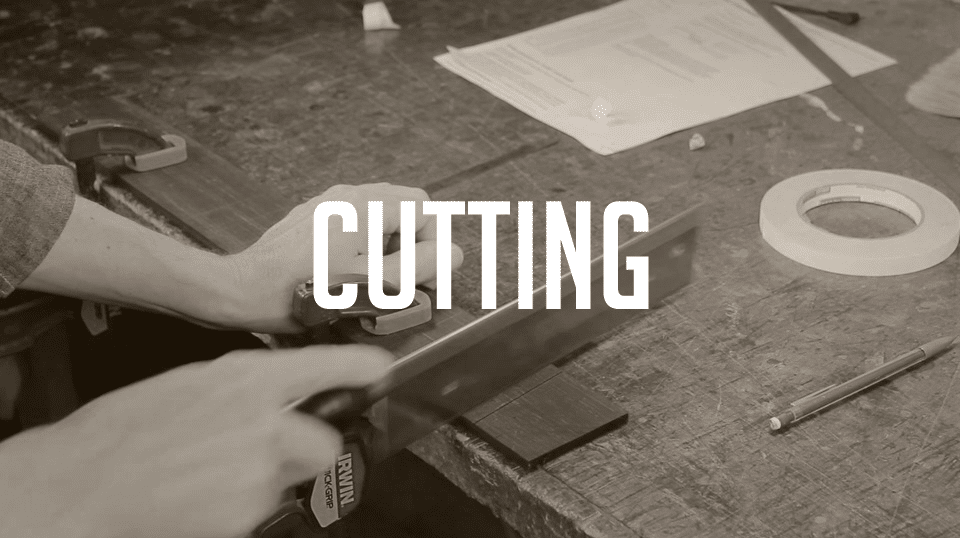 Unless we know how to accurately cut the fret slots then all our hard work and double checking would be in vein. Tom's special techniques and secrets for making the fret slot cutting process much easier to do and more accurate.
Intro To Cutting Fret Slots
Tools And Materials For Cutting
Method For Cutting Slots
Mastering The Sawing Technique
Cutting Fret Slots

Checking Fret Slots
Refining The Cutting Technique
Cutting Final Fret Slots
Binding and Purfling Considerations
Preping Fingerboard For Binding
Section #5: Alignment And Headstock Angles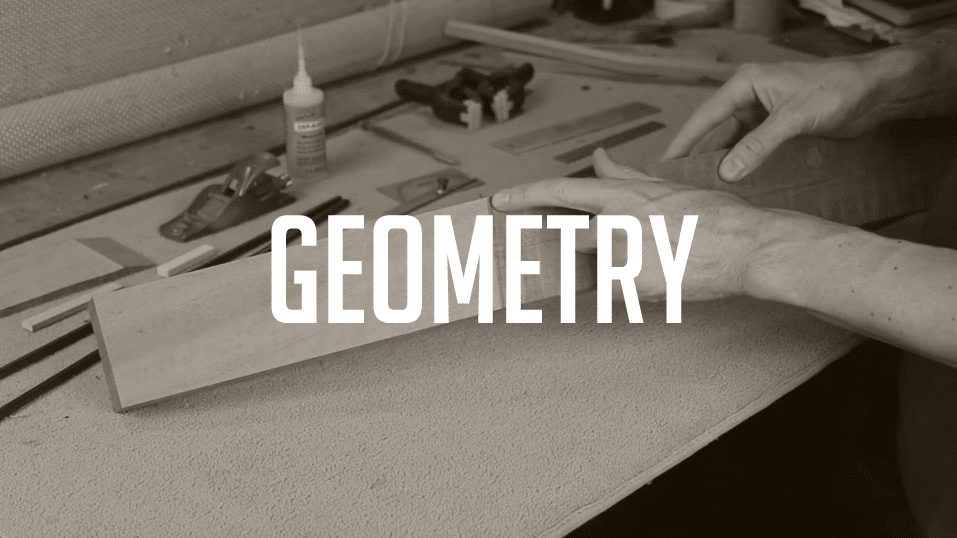 In order of the fanned fret guitar to be a successful project, the fingerboard must be properly aligned with the body in relation the desired bridge location. Tom shares his unique approach to ensuring precise alignment and bridge placement and also shares his techniques and approach to the unique headstock geometry resulting from the fanned fret arrangement.
Intro – Preparing Fingerboard
Refining the Nut Edge
Center-line
Fingerboard Alignment
Preparing The Neck Blank
Marking Nut Location

Headstock Angles
Prep For Bound Headstock
Headstock Face
Headstock Prep
Fingerboard Stop
Planing The Fingerboard Stop
Section #6: Materials & Resources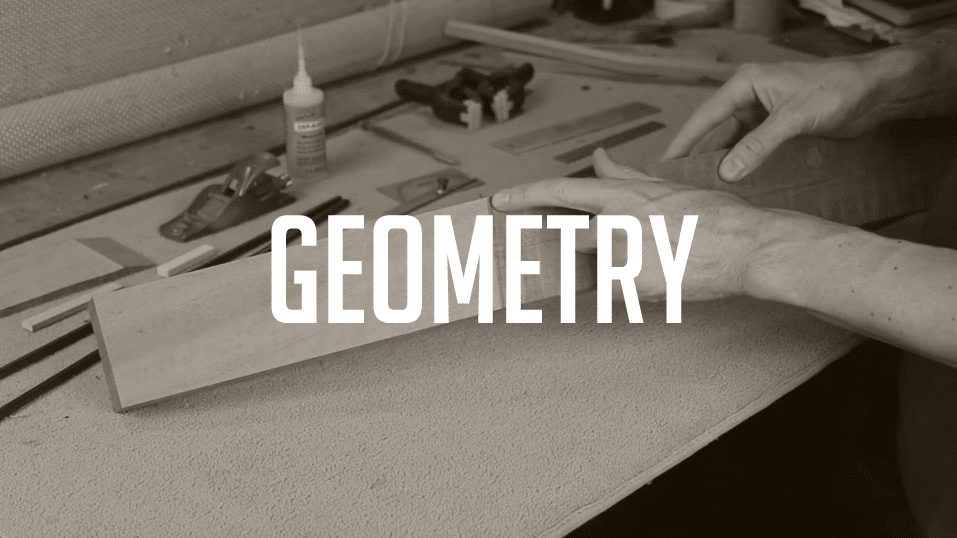 In the Fanned fret Guitar Course this section includes links to all material, tools and resources used by Tom to make his guitars and also those demonstrated int eh course itself. Some fo the tools and resources include:
Drawing Tools
Cutting
Measuring
Books
Courses
Bonus – EBook Download
Join Today & Learn How To Make YOUR Fanned Fret Guitar!
Click Here To Access The Fanned Fret Guitar Course & More!
* Bonus * EBook Download Included!
Understanding Fanned Fret Guitars – eBook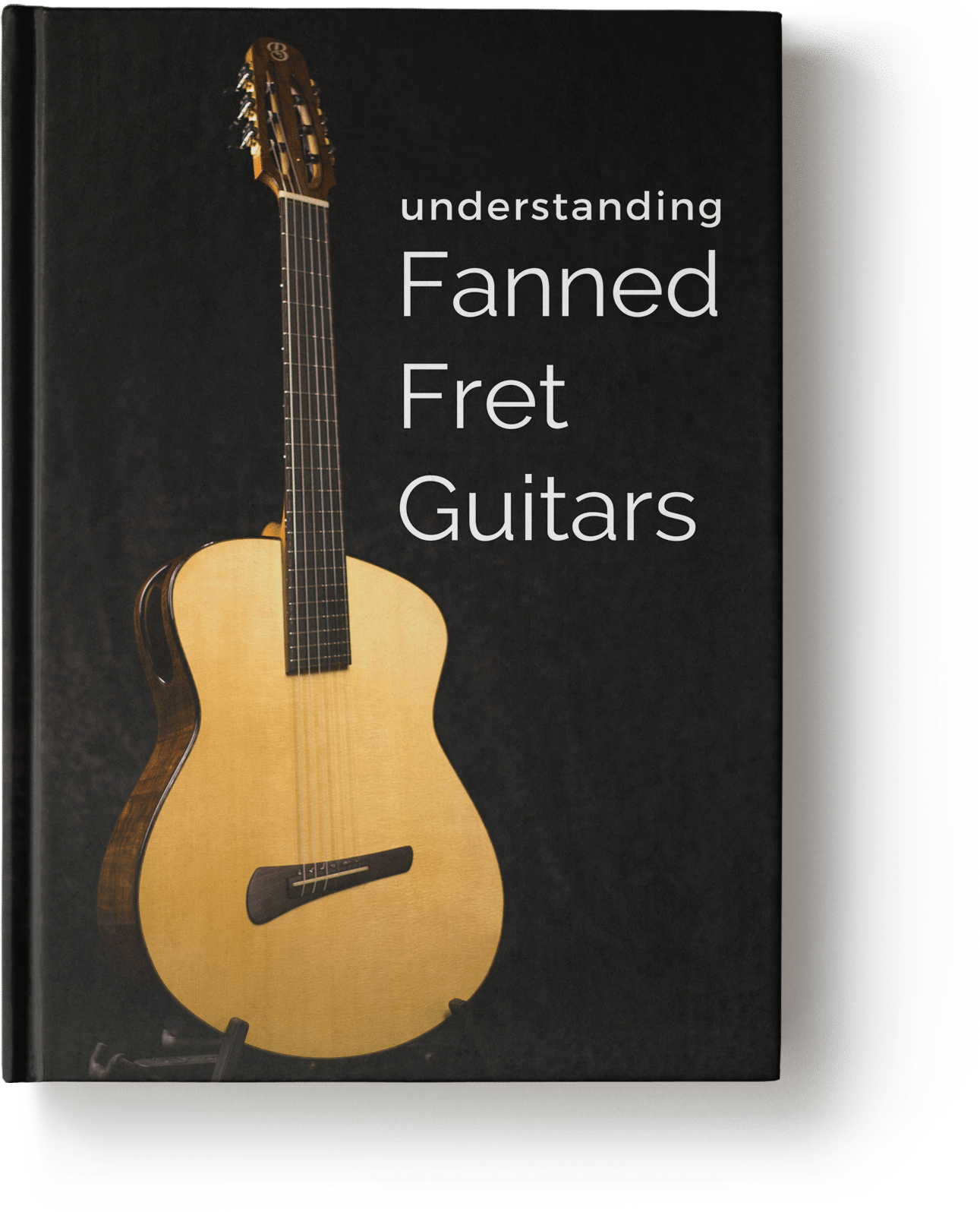 Features & Topics Covered:
---
Instant Digital Download
Guitar Scale Length
Guitar Tone Design
History Of Multi-scale
Effects Of String Tension
Effects Of String Mass
Effects Of String Thickness
Overtones Series
Ergonomics Of Fanned Frets
Single Scale Problem
Fanned Fret Solution
Exclusive Video 
The Easy Way To Understand Fanned Fret Guitars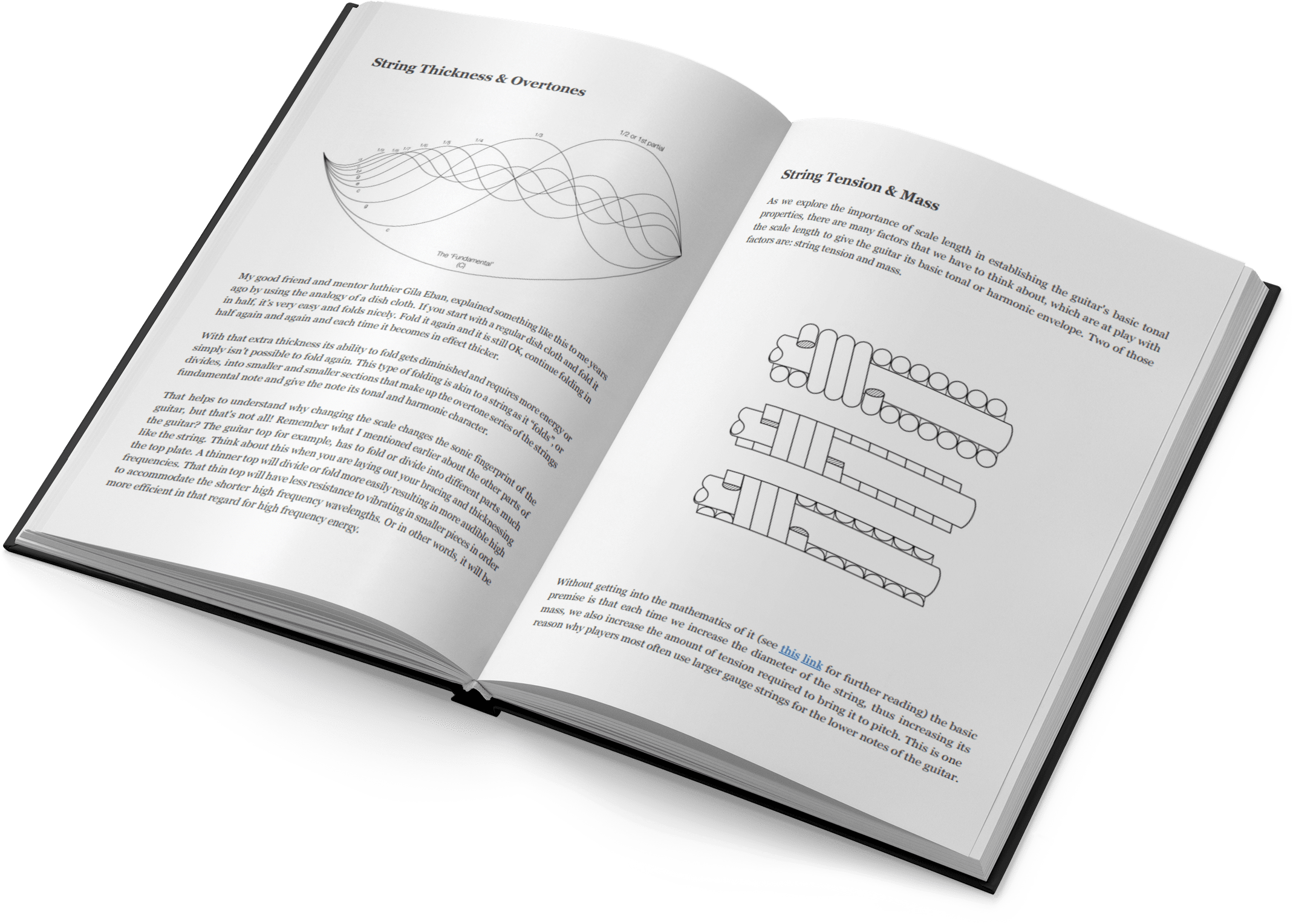 At first glance the fanned fret guitar design can seem confusing or even overwhelming to a luthier. This book is designed to be a simple introduction to the fanned fret guitar and each of the different elements within it's system, how they work together, and how to use this understanding to design your own fanned fret guitar.
This exclusive ebook also contains an easy to understand look into the important aspects of fanned fret guitars and how they effect the sound and feel of the guitar such as string tension, string mass, string thickness, overtones, and much more.
Mobile Friendly Videos To View Anytime Anyplace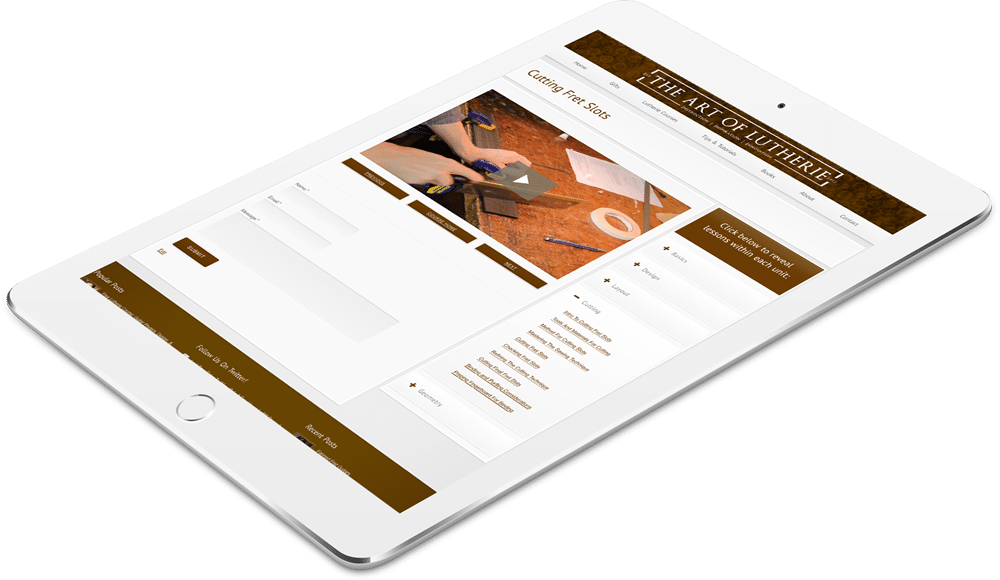 Videos Designed For Convenience & Easy Reference
Videos are delivered via our premium online streaming service in HD quality. Videos are broken in to short bit sized pieces for better retention of material, more convenient viewing and to assist in easier future reference. No need to scrub though long videos, with just a couple clicks you can find just the information you need and get back to building your fanned fret guitar.
5 Video Sections
1 Resource Section
51 HD Quality Videos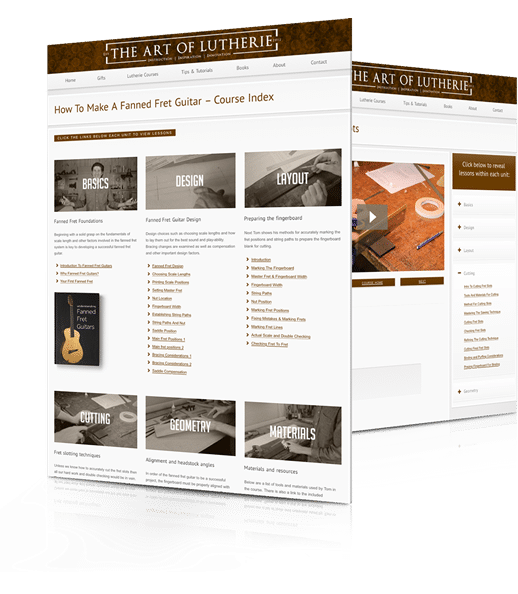 Take your guitars to the next level, Join Today!!