Click Here To Access The Art Of Headstock Binding
The Art Of Headstock Binding Luthier Video Course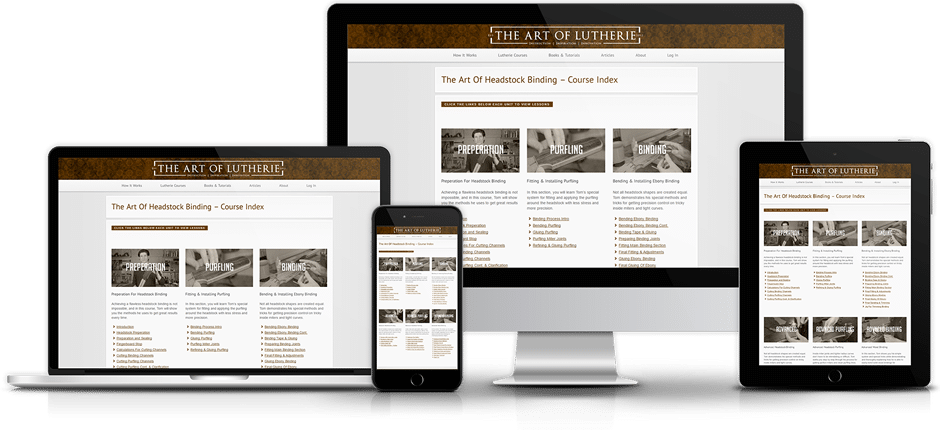 Learn The Techniques I Use For My Headstock Binding
"Clean and precise binding around the headstock of a guitar is something I have always loved to see. It adds an elegance to the look and feel. It also helps to unify the design visually; tying the binding elements of the headstock to the body bindings.
The problem is that if you don't do a perfect job of installing the headstock binding, it won't achieve your goal of making the guitar look more refined and could even make it look worse.
I spent years of trial and error developing and refining my system and approach to binding a guitar headstock with wood. When I first started, headstock binding was a stressful and hard job that was difficult to get right, but now with the very same technique that I show you in this course, I rest assured knowing that every guitar I make will have flawless binding and I hope you will be able to do the same after taking this course."
– Tom Bills
Course Outline: The Art Of Headstock Binding
Section #1: Preparation For Headstock Binding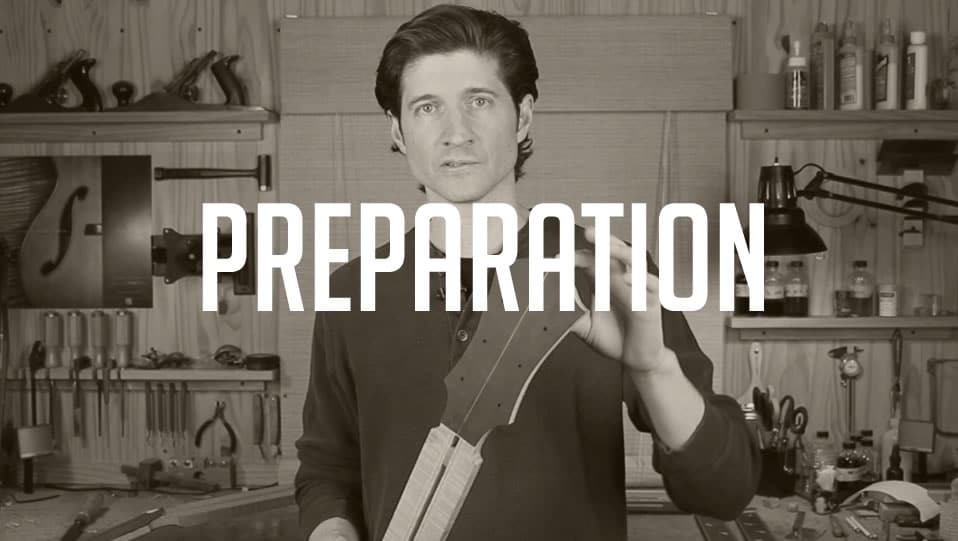 Achieving flawless headstock binding is not impossible, and in this course, Tom will show you the methods he uses to get great results every time and to make the process less stressful and more fun.
Videos Included In This Section
Introduction
Headstock Preperation
Preparation and Sealing
Fingerboard Stop

Calculations For Cutting Channels
Cutting Binding Channels
Cutting Purfling Channels
Cutting Purfling Cont. & Clarification
Section #2: Fitting & Installing Purfling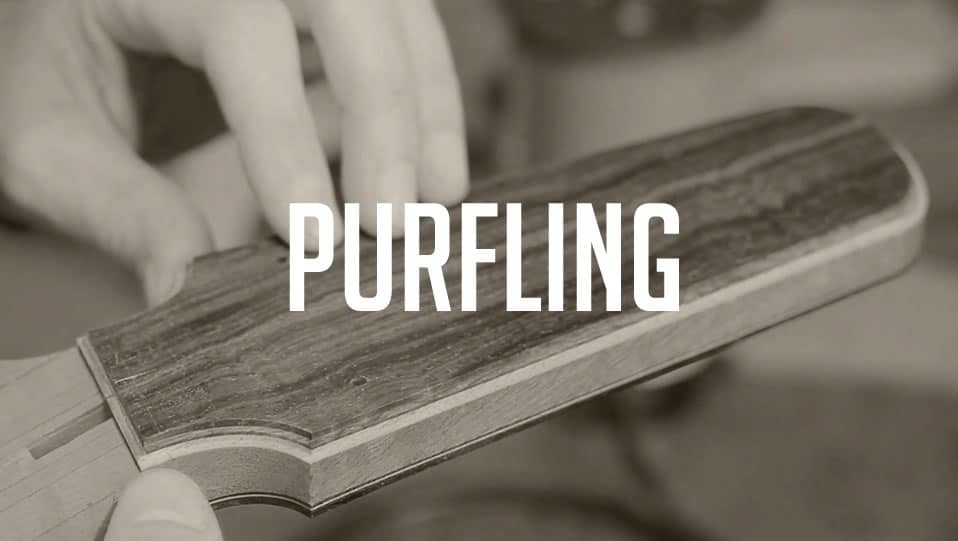 In this section, you will learn Tom's special system for fitting and apply the purfling around the headstock with less stress and more precision. The purfling is installed separately from the binding in this method and as you will see it give you the opportunity to make it as perfect as you want before adding the outer binding.
Videos Included In This Section
Binding Process Intro
Bending Purfling
Gluing Purfling
Purfling Miter Joints
Refining & Gluing Purfling
Section #3: Bending & Installing Ebony Binding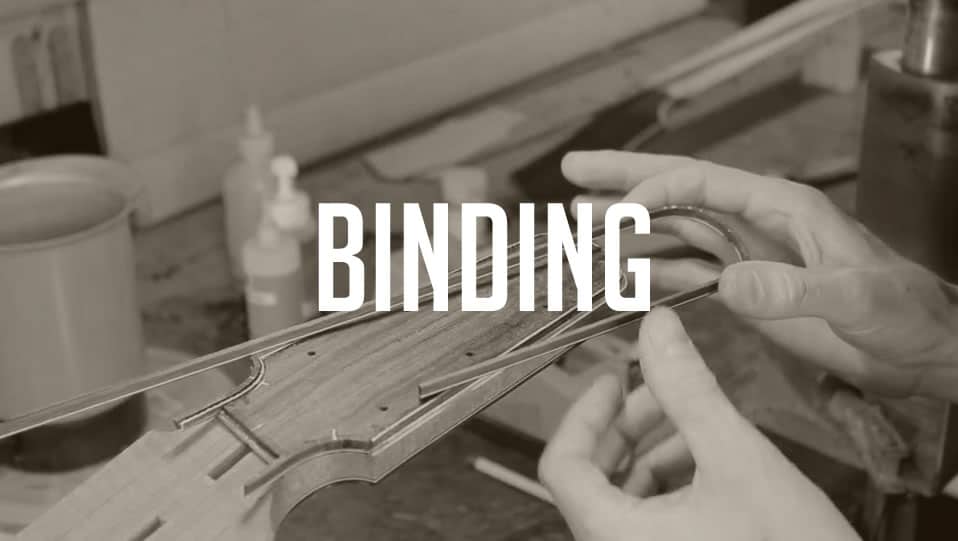 Bending thicker wood binding can be difficult unless you understand the key points that Tom demonstrates in this section to help you confidently shape the wood binding for a perfect fit.
Videos Included In This Section
Bending Ebony Binding
Bending Ebony Binding Cont.
Binding Tape & Gluing
Preparing Binding Joints
Fitting Main Binding Section

Final Fitting & Adjustments
Gluing Ebony Binding
Final Gluing Of Ebony
Final Sanding & Trimming
Jig For Trimming Binding
Section #4: Advanced Headstock Binding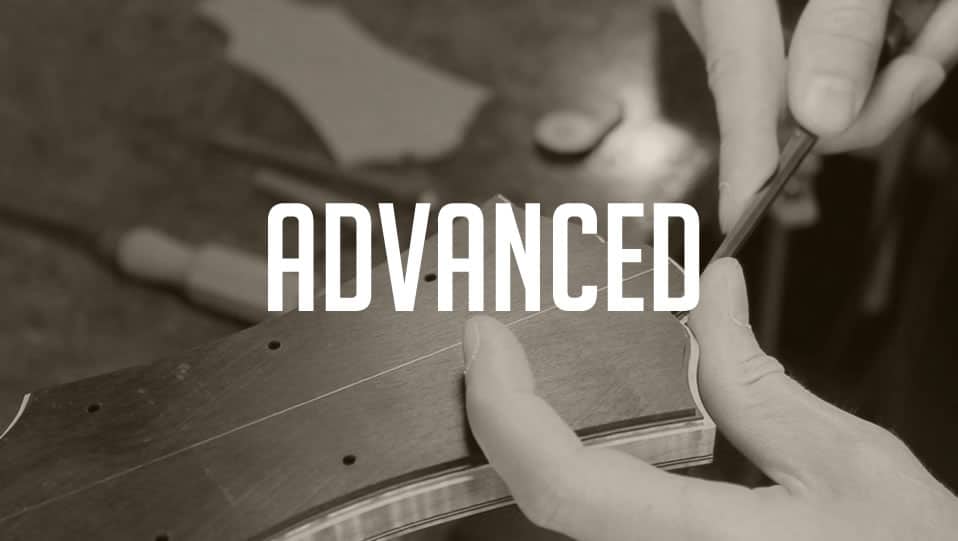 Not all headstock shapes are created equal. Tom demonstrates his special methods and tricks for getting precision control on tricky inside miters and tight curves.
Videos Included In This Section
Working With Inside Miter Joints
Roughing In Miter Joints
Using Reference Lines
Purfling Depth Tool
Tight Radius Bending – Purfling
Section #5: Advanced Headstock Purfling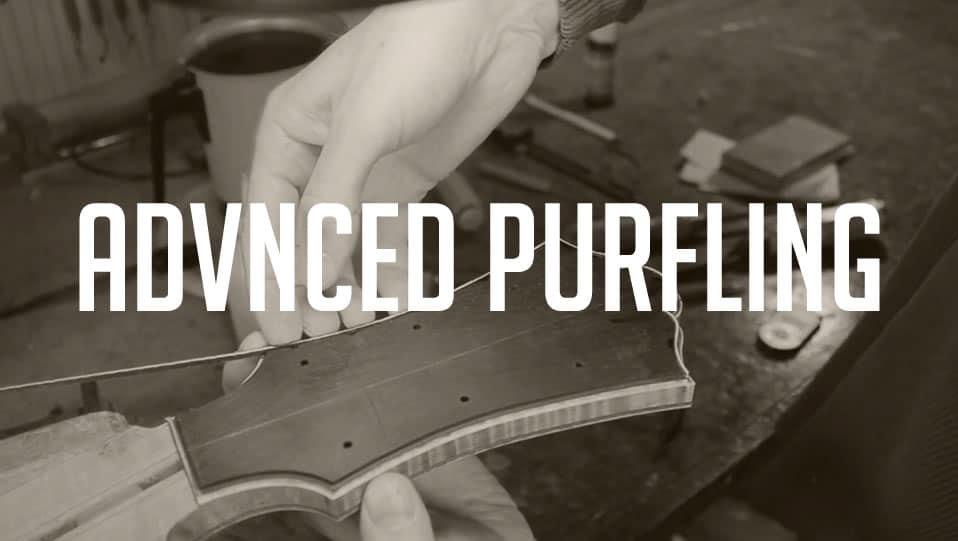 Inside miter joints and tighter radius curves don't have to be intimidating or difficult, Tom walks you step by step through his process for getting perfect miters and clean purfling lines.
Videos Included In This Section
Perfecting The Purfling
Gluing First Section Of Purfling
Fitting & Gluing Next Sections
Cutting Miter Joints

Fitting and Gluing Side Sections
Fitting And Gluing Final Sections
Purfling Clean Up & Binding Prep
Section #6: Advanced Wood Binding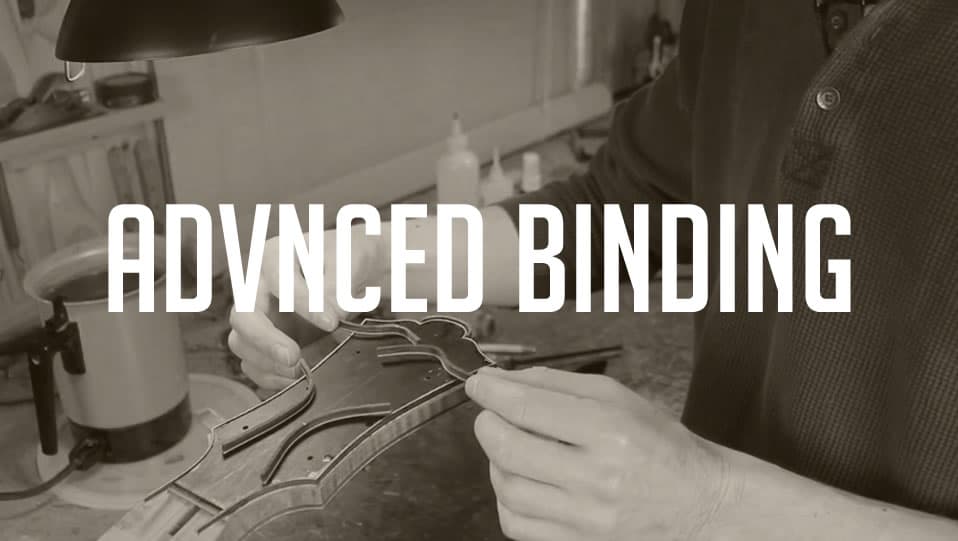 In this section, Tom shows you his simple system and special tricks while demonstrating and thoroughly explaining how he is able to easily bend solid wood bindings for challenging headstock shapes.
Videos Included In This Section
Advanced Wood Binding Intro
Advanced Ebony Bending
Perfecting The Fit
Final Fitting & Gluing First Section
Final Fitting & Gluing Second Sections

Fitting Headstock Shoulder Sections
Trimming & Fitting Last Sections
Final Fitting & Gluing Last Pieces
Final Glue Treatment
Thank You
Join Today & Learn The Secrets Of Flawless Headstock Binding!
Click Here To Access The Art Of Headstock Binding
* Bonus * EBook Included!
Basics Of Headstock Binding – eBook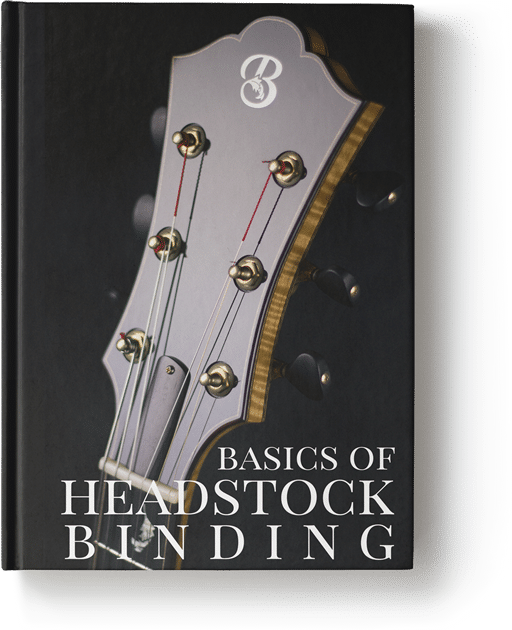 Features & Topics Covered:
---
Headstock Binding< Basics/strong>
Bending Wood
Adjusting Heat
Controling Moisture
Bending Tight Curves
Getting A Perfect Fit
2 FREE VIDEOS
Mobile Friendly Videos To View Anytime Anyplace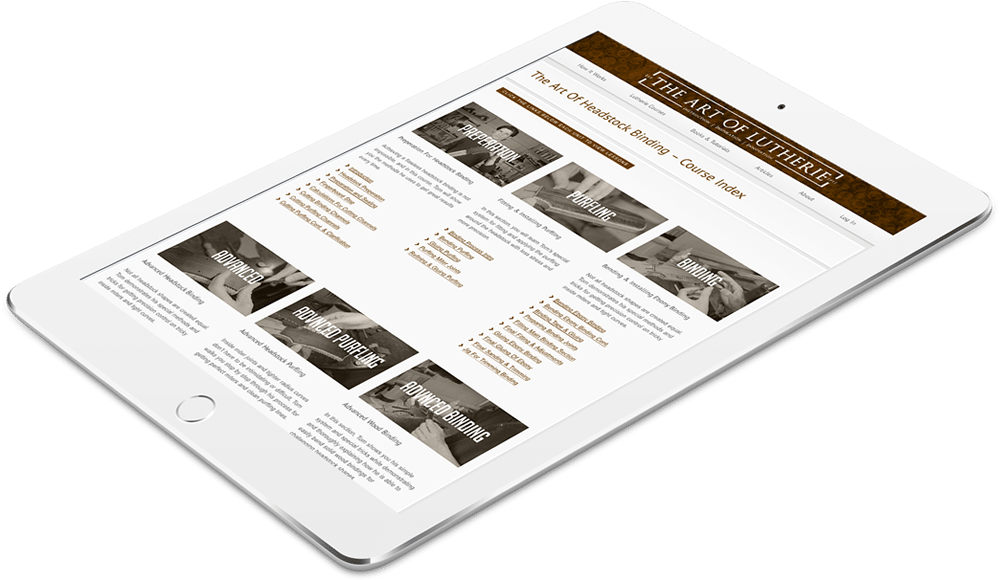 Videos Designed For Convenience & Easy Reference
Videos are delivered via our premium online streaming service in HD quality.
Videos are broken in to short bit sized pieces for better retention of material, more convenient viewing and to assist in easier future reference.
No need to scrub though long videos, with just a couple clicks you can find just the information you need and get back to installing your flawless wood headstock binding.
6 Video Sections
44 HD Quality Videos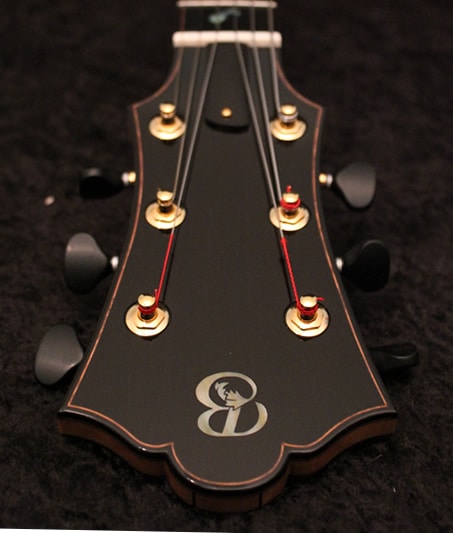 Take your headstock binding skills to the next level